Christmas Scavenger Hunt Local Area
Christmas Scavenger Hunt Local Area
by Keryn Middleton
(Norfolk - UK)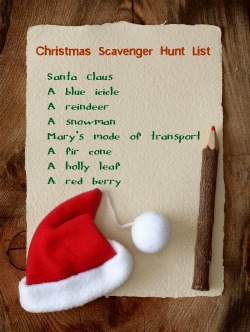 Christmas Scavenger Hunt List
Add some festive fun to the holidays by rounding up some friends and sending them out in teams with this local area Christmas scavenger hunt list.

Have team members photograph the following:

01) Santa Claus
02) A blue icicle
03) Mary's mode of transport
04) A fir cone
05) A holly leaf
06) A red berry
07) A Christmas tail
08) A roundabout
09) A light in the sky
10) A spiral
11) A dog's voice
12) A reindeer
13) A bus
14) A snowman
15) The word 'Elf' (written in letters between 6 inches and 6 ft high.)
16) A Christmas carol
17) A gift from the 'Wise Men'
18) Instead of the above, a £5 donation to a charity, paid to Keryn tonight, in cash.


Christmas Scavenger Hunt HINTS:

Implement lateral thinking - think 'outside the box'

Everything can be found between Winston Churchill Drive, Ranworth and the playground at Centrepoint. (replace with details for your local area)
Christmas Scavenger Hunt RULES
ALL team members must stay together to hunt.

Evidence must be provided for each item claimed as 'found'.

Time limit - 1 hour from starting time.

Team with the most complete correct list is the winner.

In the event of a draw, the fastest completion time wins.

1 point for each correct item

3 bonus points awarded for knowing the names of The Three Wise Men

Keryn's (or your name of choice) decision is final!
More Christmas Game Fun:
Printable Christmas Party Games for All Ages
Join in and write your own page! It's easy to do. How? Simply click here to return to Scavenger Hunt Lists.
Nov 25, 23 03:52 PM

Printable left right Christmas game based on the story of Scrooge from A Christmas Carol by Charles Dickens. Read the story and pass gifts left and right.

Nov 20, 23 05:55 PM

A crazy Christmas scavenger hunt involves finding unusual Christmas items that have been set up in the hunt area ahead of time. Will your guests spot that Rudolph has a green nose, etc.?

Nov 20, 23 04:58 PM

Over a dozen Christmas scavenger hunts to celebrate the holiday season. Tons of fun Christmas treasure hunt riddles, clues and printable lists.