GDO (Girls Day Out) With Friends!
by Barbara
(Atlanta, G.A., Johns Creek)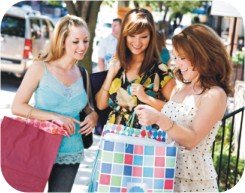 Shopping Game
This a scavenger hunt for girls 10 to 22 and it's just a time to have fun with your friends. Whoever gets all the items and returns at the right time gets to keep all of the items or they can choose to share for memories.

If you're under 17, I suggest that you have somebody to drive you that is 18 or older because you girls can have a little too much fun. Someone has to be able to handle you girls and drive at the same time.

Here are the items you have to get, but they are free so don't worry!


Girls Day Out Scavenger Hunt Item List:


A mug from Waffle House

A paint mixer from Home Depot

A Walmart sticker

A grocery bag from Kroger

Go to the mall and try on gowns then take a picture

In the mall you'll see a booth to get fake hair... put one on and take a picture

Go to Limited Too and find the lowest price for flip flops

In the food court at the mall in there's things on the tables; write down what it says

Go to the iPod store and take pictures on the computer

Last but not least find a used receipt that is for five dollars or more

When you're done meet at Starbucks in the mall and see who won!

Thank you for reading my idea and I hope you choose to use it!

What I didn't tell you is that you can pick however long you want to complete the scavenger hunt!

Bye-Bye!