Mall Scavenger Hunt Ideas
Mall Scavenger Hunt Ideas
by Ruby
(Perth, WA, Australia)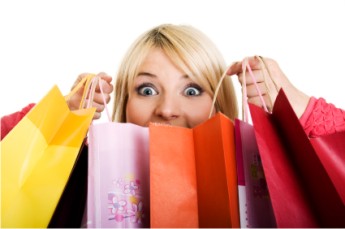 Mall Scavenger Hunt Shopper
A fun party to have is a mall scavenger hunt, but if you are low on cash or don't want to spend much money use the following lists.

Rules:
Set a time limit.
All items must be free.
The team with the most items wins.


Things to find at local mall:

Shopping bag

Napkin from food court with company's name

Loose button

Thread or string

Food sample

Paper clip

Business card

Brochure

Catalog

Old reciept

50% off sticker

Discount card

5 different perfume samples on card

Menu from a resturant

Gift Card envelope


Another variation of the game is to try and do as many free things as possible:


Paint finger nails with orange tester nailpolih

Apply eyeshadow (also tester from a shop)

Get one team member to get a make over

See if you can get a free game at local arcade, etc.


Or have a photo mall scavenger hunt and get photos of team members:


On a kiddie ride

Riding the escalator

Holding hands with a cute guy


Other mall scavenger hunt ideas include:


See how many different things you can buy with $5

See if you can buy one thing for each letter of the alphabet with only $15

See how many different things you can buy with $10 but only of one colour

See how many rainbow things you can buy with only $10


Have a filmed scavenger hunt - film things you do and watch them later (this is great for something to watch if having a sleepover as well)


Or have a question scavenger hunt. Example:


What number is David Jones on the map of the mall?


If you have some money to spend get the birthday girl to pick out a celebrities outfit from a magazine and give each team $40 to try and "copy" the look. Don't let the other team see what you have brought because you can model the look later on.

What ever you plan make it original and have fun!




More Mall Scavenger Hunt Ideas and Printable Lists



Mall Clue Hunt



Printable Mall Scavenger Hunt Invitations
Join in and write your own page! It's easy to do. How? Simply click here to return to Scavenger Hunt Lists.
Nov 25, 23 03:52 PM

Printable left right Christmas game based on the story of Scrooge from A Christmas Carol by Charles Dickens. Read the story and pass gifts left and right.

Nov 20, 23 05:55 PM

A crazy Christmas scavenger hunt involves finding unusual Christmas items that have been set up in the hunt area ahead of time. Will your guests spot that Rudolph has a green nose, etc.?

Nov 20, 23 04:58 PM

Over a dozen Christmas scavenger hunts to celebrate the holiday season. Tons of fun Christmas treasure hunt riddles, clues and printable lists.