The Herron Family Christmas Scavenger Hunt 2006
by Toby and Wanda
(Columbia SC - USA)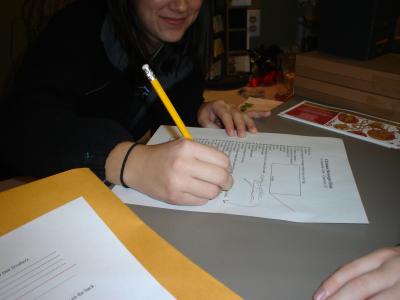 A Store Clerk Signing the Scavenger Hunt List
On a trip down to Charleston for Christmas shopping on King St., my wife and I came up with a list, as the 5 kids watched videos in the back. We went to a restaurant for lunch, and announced the game - the kids were not at all excited about what we proposed, but went along with it. They had 1 hour, $5, (two teams) and they had to stay within certain boundaries, - we met at the record store where the winning team would pick out their own prize(s). - Well, it was a hit, the kids loved it, and we got an hour to shop alone. T
The shoppers were all very friendly and helpful. The kids were so excited about it, they wanted to bring friends in 2006. We took the best from the 2005 list, added some more goodies, added a "photo bonus", (for our records) and had some interesting calls coming in - We hope to make this a family tradition and move it to other cities as well. - Enjoy.

Note: You can see the "list" in the photo.



Christmas Scavenger Hunt
December 16, 2006 - Charleston, SC
Silver bow

Lollipop

Lipstick impression of a person you've never met within circle on the bag

A nut

A Chinese or Japanese 9

A camel drawn by a waitress

Something BLUE

Band aid

Seashell

Star

A fish

A pencil

The least favorite food of a female store clerk ________________

Flower with petal

Feather

Onion ring

South Carolina quarter

Ice cube

Any store receipt of $10 or more

Mistletoe

Have a Christmas shopper take a photo of the team, while team sings Jingle bells

Green magnet

A male store clerks favorite Christmas gift of all time ___________

Round toothpick

Something chocolate

A coupon

A photograph

A hat

Picture of a Christmas shopper singing a Christmas song of his/her choice. Name of Song _________________ Signature ____________

Pine needle

Animal fur

A match

Tea bag string

Something living

A noisemaker

A warning label

Signature of a 5 year old

A fortune cookie

A key

A musical note

Braille rub

A Christmas shopping list

Names of all eight reindeer filled in by at least two brothers.

A policeman's or fireman's license number

The number 007

A Christmas bell

A business card - the owner guesses and writes the names of each team member on the back.

Something size medium

Something sharp

A Q-tip

A Hershey kiss flag

A bazooka comic

A menu

Something plastic and square

A smell

A birthday card

A suggestion for next years list from a shopper

A breath mint

A price tag

2 points - Convince a shopper wearing Christmas colors to call 803-XXX-XXXX and sing Rudolph the Red Nosed Reindeer.

By only saying the following 10 words... Twas the night before Christmas and all through the house...

1 point for getting a shopper to say, "not a creature was stirring, not even a mouse" (with signature).
2 points for any further completed verses.
4 points for a complete reciting of the poem. NO OTHER WORDS CAN BE USED until after they stop. Only three attempts total can be made at this.

4 point bonus to record all items in photos as they are collected.


... this is the first year's list (2005). We kept the best items in 2006 and added some more.



Scavenger Hunt- December 17, 2005



Candy Wrapper
Pinecone
Bow
Hair from Horse tail
Lipstick Impression (stranger)
Signature from a 15 yr old
Button
Nut
Teabag
Flag
Something living
Aspirin or cough drop
Toilet Paper
Chinese letter(s)
A warning label
Something historical
Cartoon
Plastic clip
Matches
Band-Aid
Toenail
Name of store clerks favorite pet
Fortune Cookie
Name of store clerks first boyfriend/girlfriend
Key
Fish Food
Marble
Bottle cap
Musical Notes
Green pen
Christmas on paper
Star
Santa
Flower
A Christmas shopping list from stranger
Feather
Piece of tape
French fry
Pickle
Shiny Penny
A straw
Rainbow
A police officers badge number
Ice cube
Braille rub
Receipt more that 10 dollars
Tinsel
Mistletoe
The number 4
Sing a carol to a stranger
Bell
Yellow Magnet
Business card - the owner guesses your name and writes it on the back of the card
Toothpick
Cotton ball
Seashell
Diaper