Barbie Trivia
A Quiz on the World's Most Famous Fashion Doll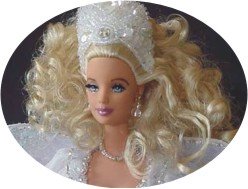 Barbie is such a popular part of our culture that you would think Barbie trivia would be relatively easy, but think again.

There's probably a lot you don't know about this beauty icon.

For instance, do you know how much a 1959 Barbie is worth? Or what about her name...
Do you know Barbie's real name?
Use this Barbie trivia at your next girl party and see just how much you and your friends know about Barbie. 
Barbie Trivia Questions
01. What year was Barbie introduced? 
A. 1955 
B. 1957 
C. 1959 
D. 1961


02. What is the value of a 1959 Barbie in mint condition today? 
A. $ 3,000
B. $ 5,000
C. $ 8,000
D. $10,000


03. What is Barbie's full name? 
A. Barbara Ann Roberts 
B. Barbara Ann Robertson 
c. Barbara Millicent Roberts


04. Who was Barbie named after? 
A. Barbara Stanwyk 
B. Barbara Handler 
C. Barbara Babcock


05. What color were the first Barbie's eyes? 
A. White 
B. Blue 
c. Green 
D. Brown 


06. In the early 1960's, Barbie took on the style and sophistication of the decade's most famous trendsetter - Jackie Kennedy. What was her haircut called? 
A. Bubble cut 
B. Bob cut 
C. Page boy cut


07. In 1967, how did Mattel market the new & updated Mod Barbie with a "Twist 'n Turn" waist? 
A. Name Mod Barbie contest for a chance to win Barbie prizes
B. Trade in your old Barbie for an all new Barbie 
C. New Mod Barbie for $1.50 cereal box coupon 


08. Who was the first black doll in the Barbie family of dolls? 
A. Francie 
B. Stacy 
C. Christie


09. Who was the first celebrity to become a doll in the Barbie family? 
A. Marilyn Monroe
B. . Twiggy 
C. Cher


10. Who came first, Midge or Skipper? 
A. Midge 
B. Skipper 
C. Both were introduced at the same time


11. In 1977, Barbie was given a new face, with long blonde hair and a big smile. What is this face design, that was used for over 20 years, called? 
A. Angel 
B. Superstar 
C. Beauty Queen


12. Why was the Teacher Barbie doll recalled by Mattel in 1995? 
A. Her outfit was too sexy for a teacher 
B. The lenses on her glasses were dangerous if broken 
C. She wasn't wearing panties


13. When did Mattel start making "collectible Barbies"? 
A. 1986 
B. 1980 
C. 1974


14. What was the name of Barbie's 1986 rock band? 
A. The Rockers 
B. Barbie's All Star Rockers 
C. Blue Rhapsody


15. The popular "Dolls of the World" series was produced from 1980 to 2000 - what was the first one issued? 
A. French Barbie 
B. Italian Barbie 
C. Swiss Barbie


16. What famous Hollywood fashion designer created the "Jewel Essence Collection"? 
A. Nicole Miller 
B. Calvin Klein 
C. Bob Mackie


17. The 1998 Limited Edition Sunflower Barbie was inspired by the work of what artist? 
A. Vincent van Gogh 
B. Claude Monet 
C. Henri Matisse


18. What artist was commissioned in 1986 to paint a portrait of Barbie? 
A. Francis Bacon 
B. Thomas Kinkade 
C. Andy Warhol


19. Why was the 1999 "Generation Girl" series controversial? 
A. One doll had a nose ring and another had an ankle tattoo 
B. The series include an unmarried pregnant Barbie 
C. Both


20. What country condemned Barbie (which was already banned in this country) with this statement: "Jewish Barbie dolls, with their revealing clothes and shameful postures, accessories and tools are a symbol of decadence to the perverted West. Let us beware of her dangers and be careful."? 
A. Pakistan 
B. Saudi Arabia 
C. Kuwait 


BONUS BARBIE TRIVIA QUESTIONS:
1. In the 1950s every proper lady would have one of these in her purse - what is it? Answer 

2. What was the difference between the #1 Barbie and #2? Answer 

3. Why is a tiny brass compact considered a "holy grail" to vintage Barbie collectors? Answer 
Barbie Trivia Answers
01. C. 1959 - Barbie made her debut at the American Toy Fair in New York City in 1959. / 02. D. $10,000 / 03. C. Barbara Millicent Roberts / 04. B. Barbara Handler - Barbie's creator, Ruth Handler, named her after her daughter Barbie. She was the co-founder of Mattel with her husband, Elliot. They also had a son named Ken! / 05. A. White - The 1959 Barbies had white irises. They were changed to blue in 1960. / 06. A. Bubble cut -The bubble cut was introduced in 1961 in several colors. / 07. B. Trade in your old Barbie for an all new Barbie - With a "trade-in" program, older Barbies were traded (plus $1.50) for the newest Barbie. / 08. A. Francie -She appeared in 1967 as Barbie's mod cousin. This doll is very rare. A more widely known Black Barbie was introduced in 1980. / 09. B. Twiggy - The first supermodel, Twiggy, in 1967. / 10. A. Midge - Midge, Barbie's best friend, was introduced in 1963, and her little sister, Skipper, in 1964. / 11.B. Superstar - because it was first used on Superstar Barbie. / 12. C. She wasn't wearing panties - There was media controversy over this. / 13. A. 1986 - In 1986 a porcelain collectible doll, Blue Rhapsody Barbie was introduced. It was the first Limited Edition collector Barbie doll. (The 1988 Happy Holidays Barbie is considered to be the first non-porcelain "collectible Barbie". When the 1988 Happy Holidays Barbie flew off the shelves and began commanding very high values on the secondary market, Mattel realized there was a huge market for Barbies for adult collectors.) /14. A. The Rockers / 15. B. Italian Barbie / 16. C. Bob Mackie - He designed for a total of 26 collectible Barbies from 1990 to 2003. / 17. A. Vincent van Gogh / 18. C. Andy Warhol / 19. A. One doll had a nose ring and another had an ankle tattoo / 20. B. Saudi Arabia

Barbie Trivia questions and answers provided by Fashion Doll Guide


Would you like a printable version of this Barbie trivia? Fill in the form below and we will send you a printable copy of this Barbie trivia asap.
Note: Be careful when typing in your email address or it will be impossible for us to reply. We WILL NOT share your email address with anyone.
To view this printable Barbie trivia, you will need Adobe Reader installed on your computer (the latest version is recommended). You can get your free Adobe Reader here (a new window will open so you can download without leaving this page).
Find the Barbie doll you've been wanting, but haven't been able to find.
Vintage Barbie dolls, collectible Barbie dolls, modern Barbie dolls and more are available at eBay everyday. 
Jul 25, 23 02:35 PM

Fun and challenging baby animal name game. What baby animal names do these 15 image clues rhyme with? Challenge yourself and your party guests. Free printable game and answers.

Jun 27, 23 02:30 PM

Challenge friends and family with this July 4th songs trivia quiz based on patriotic lyrics. From traditional to modern, there's a song for every generation.

Apr 26, 23 04:28 PM

Guess the Princess from an image of something they are associated with like a chameleon for Rapunzel or a pea for Princess Daria. Printable game with answers.