Beauty Trivia Quiz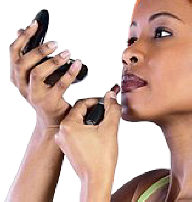 This beauty trivia is perfect for a spa party or home makeup party.  I must warn you however, that it is challenging.
How much do you really know about your favorite beauty products and the companies that manufacture them?
Test yourself with this fun, informative Beauty Trivia and then test your friends. 


Beauty Trivia Questions
01. How many pores are on the average adult female face?
02. What is America's number one best-selling cosmetic product?
03. What is Elizabeth Arden's real name?
04. What company introduced makeup which resulted in the descriptive term 'vamp'?
05. What year did Bonne Bell begin selling 'Ten-0-Six'?
06. Which was the first major cosmetics manufacturer to announce a permanent end to animal testing in the safety testing of its products?
07. What are the world's best selling fragrances for men? for women?
08. What beauty tool/household staple was originally known as 'Baby Gays'?
09. What well-known company was founded in 1886 as the California Perfume Company?
10. A beautiful model in an evening gown appeared on the cover of a Harper's Bazaar magazine in 1915. She wasn't wearing a corset, her skirt was above her ankles and the back of her dress was scandalously low. But the model lacked one thing in particular that would set off a new trend in fashion in North America. What was it?
11. What are 'frownies'?
12. Helena Rubinstein began her career creating stage and film makeup. When Theda Bara appeared on the screen wearing a lot of one of Rubinstein's innovations, it became instantly popular with the general public. What was it?
13. How did the name Maybelline come about?
14. In 1914, a skin cream was invented by Baltimore pharmacist George Bunting. The name of the skin cream, 'Dr. Bunting's Sunburn Remedy,' was changed to what after a customer swore that the cream had "knocked out his eczema?"
15. In 1904 Polish immigrant, Max Factor decided to try his luck in America, where he started out by creating and selling theatrical makeup. What was one of his first major innovations?
16. What does the company name M.A.C. stand for?
17. In what year and by what company was the first UVA/UVB sunscreen developed?
18. Which is the world's largest cosmetics company?
19. Dr. Pepper, Cherry 7-Up, Orange Crush, Mountain Dew, A&W Root Beer... Which is NOT a Lip Smackers flavor?
20. How much money did Americans spend on skin-care products in supermarkets and drugstores in 2004? 


---
Beauty Trivia Answers
01. 20,000 / 02. Great Lash Mascara by Maybelline (Introduced in 1971, the company estimates 1 tube is sold every 1.6 seconds in the U.S.) / 03. Florence Graham / 04. Vogue (In 1914 Vogue featured Turkish women using henna to outline their eyes, and the movie industry immediately took interest. This technique made the eyes look larger, and the word "vamp" became associated with these women, vamp being short for vampire). / 05. 1936 / 06. Avon (in 1989) / 07. For men - Armani and for women - Chanel No. 5. / 08. Q-tips (They were invented in 1923 by a Polish-born American named Leo Gerstenzang who founded the Leo Gerstenzang Infant Novelty Company to market his new invention. Q-tips was not the first name Gertenzang used, Baby Gays was. In 1926, Baby Gays was expanded to Q-Tips Baby Gays, and later the Baby Gays part of the name was dropped. The Q in Q tip stands for quality, and tips refers to the cotton ends.) / 09. Avon (California Perfume Company name changed to Avon Products, Inc. on 10/6/39.) / 10. The model lacked underarm hair (The Wilkenson Sword razor blade company jumped right on the bandwagon and fiercely pushed the idea of women's underarm hair as unfeminine and unhealthy.) / 11. Frownies are facial pads designed to correct facial wrinkles (The pads are made from natural, skin-friendly materials and are applied to the forehead and corners of the eyes and mouth at bedtime to 're-educate the underlying muscles to assume their correct, relaxed and natural appearance'. Frownies, still sold today, were created in 1889 after Margaret Kroesen discovered that her daughter Alice, a concert pianist, had developed unsightly wrinkles and frown lines.) / 12. Mascara / 13. A combination of a popular cosmetic creator's sister's name and one of its core ingredients (In 1913, T.L. Williams, a chemist, blended a mix of coal dust and petroleum jelly to darken his sister's eyelashes. Considering the efficacy of the lash darkener, T.L. Williams set up a company by naming it after Maybel, his sister and Vaseline, the core ingredient of its products.) / 14. Noxema / 15. Pancake makeup (In 1914, he introduced his pancake makeup, developed for actors, as an improvement over the older greasepaint. Pancake makeup didn't sweat off as easily.) / 16. Make-up Art Cosmetics / 17. In 1980 by Coppertone / 18. L'Oreal (L'Oreal was founded in France in 1907 and has acquired many leading U.S. cosmetics brands, including Maybelline, Redken, and Kiehl's.) / 19. Mountain Dew (Bonne Bell has been exciting lips with Lip Smacker, the WORLD'S favorite flavored lip gloss, since 1973. The first fruity flavor to hit the market was Strawberry. Today many flavors are sold worldwide. Named by Jesse Bell, former CEO of Bonne Bell, they were originally made as a lip gloss for the outdoor person, but there was no flavoring. So, in order to be different, back in our development lab in Lakewood, Ohio, our chemists formulated the first flavored Lip Smacker. Bonne Bell became the first company to distribute a lip product of this type. Not only was the flavor innovative, but the stick size and concentration of the flavor were a first in the industry.) / 20. $1.69 billion 


Questions and answers for this Beauty Trivia provided by
Suzanne from Mineral Makeup Reviews.


Nov 25, 23 03:52 PM

Printable left right Christmas game based on the story of Scrooge from A Christmas Carol by Charles Dickens. Read the story and pass gifts left and right.

Nov 20, 23 05:55 PM

A crazy Christmas scavenger hunt involves finding unusual Christmas items that have been set up in the hunt area ahead of time. Will your guests spot that Rudolph has a green nose, etc.?

Nov 20, 23 04:58 PM

Over a dozen Christmas scavenger hunts to celebrate the holiday season. Tons of fun Christmas treasure hunt riddles, clues and printable lists.