Breakfast Casserole
by Catherine Diane Welch
(Georgetown, TN, USA)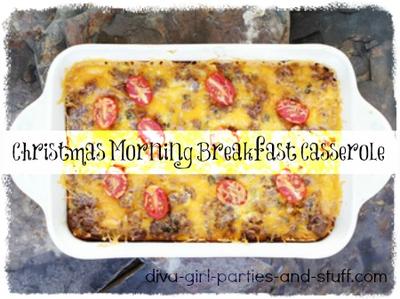 Easy Christmas Morning Breakfast Casserole
Every Christmas Eve for approximately 20 years, I have made "Breakfast Casserole". Then early Christmas mornings it was popped in the oven & baked while my sons opened their Santa's gifts. When the presents were all opened, a delicious hot breakfast was ready to eat.

One year I was planning our Christmas Menu, and mentioned that I might not prepare "Breakfast Casserole" and both sons exclaimed ....it would not be Christmas without "Breakfast Casserole".

A Welch tradition was born... "Christmas Breakfast Casserole"


Breakfast Casserole Recipe:
6-8 slices buttered bread with edges trimmed

2 lbs TN Pride Sausage (1 hot & 1 mild flavor)

1 small onion, chopped

1 medium bell pepper, chopped

2 cups finely shredded extra sharp cheddar cheese

6 eggs, well beaten

2 cups half & half cream

1 tsp salt

1/4 tsp black pepper
Breakfast Casserole Directions:
Place trimmed buttered bread with buttered side down in a 9x13x2 inch baking pan.


In a large skillet cook sausage with onion and bell pepper.


Crumble the sausage with a fork while browning.


DRAIN ALL FAT!


Pour sausage mixture over the bread.


Sprinkle cheese over the sausage.


Beat eggs with the half & half cream, salt and pepper.


Pour over the cheese layer.


Cover tightly and refrigerate overnight.


Next AM uncover and bake at 350 degrees for 45 minutes.
ENJOY!