Family Christmas Traditions
Games, Activities, Recipes and More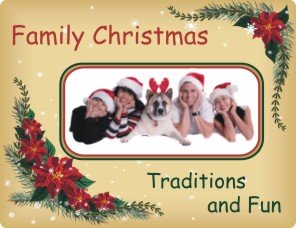 There's something so heartwarming about a family Christmas.
Christmas is all about spending time with family and we all want to plan and host the perfect Christmas celebrations for our families, however, sometimes we need all the help we can get to achieve that.
Our visitors shared some great ideas... delicious Christmas party recipes, Christmas games and activities, and loads of yuletide traditions.
Special congratulations to the three who WON a $25 US Amazon Gift Certificate in our Christmas Traditions and Fun Contest!
Julie Stewart of Texas on her winning Christmas game entry, Christmas Auction
Diane Roscoe of Ohio on her winning family tradition entry, Elf Night
Sharon Jeka of Indiana on her winning Chocolate Cherry Cake holiday recipe entry 



Family Christmas Traditions
Food, Fun & Activities
Our visitors' share their favorites below...

Want to be notified of upcoming contests? Fill in the form below.



More FamilY Christmas Ideas
Join in on Party Chats at Diva Girl Parties and Stuff Facebook.


Nov 20, 17 01:06 PM

Let it snow on your party with some snow trivia based on fun facts about the white fluffy stuff.

Nov 18, 17 06:54 PM

Free printable nativity right left Christmas game. A fun and meaningful Christmas party icebreaker for a gift exchange or to choose a party prize winner.

Nov 15, 17 02:30 PM

You'll need a thesaurus of word knowledge to win this Christmas carol game. Popular Christmas carol titles have been altered. Decipher & guess the original Christmas songs from their fun new titles.