Santa's Butterscotch Melts
by Morgan Towle
(Oklahoma)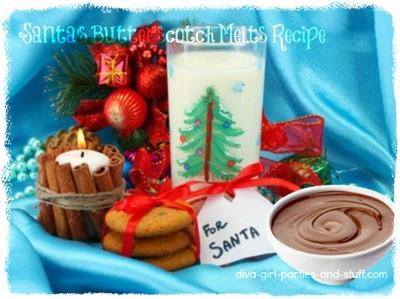 Santa's Butterscotch Melts Recipe
Be sure to leave a plate of Santa's butterscotch melts for the big guy. He'll savor them to the very last bite.


Santa Butterscotch Melts Ingredients
3 tablespoons butter


2 tablespoons soft brown sugar


3/4 cup self-raising flour


1/4 cup custard powder


1 teaspoon water


1 packet chocolate bits


As needed melted butter or oil for greasing pans
Santa Butterscotch Melts Directions
Preheat oven to 350 degrees.


Brush the biscuit trays (32x28cm) with melted butter or oil.


With electric mixer, beat butter and sugar in the mixing bowl until it is light and creamy.


Put in sifted flour and custard powder, stir with wooden spoon, then add water. Stir until it is all mixed well together.


Take one teaspoon of mixture and gently roll into a ball - place on biscuit tray - repeat with the remaining mixture.


Flatten each ball slightly with a fork.


Bake for 15 minutes or until the biscuits are golden brown. Let them cool on trays.


To decorate the biscuits, melt a pocket of chocolate bits in a bowl in the microwave and dip half of each biscuit into the chocolate.


Place in the refrigerator for 10 minutes so chocolate will set.
Return to Family Christmas Traditions and Fun Contest.
Sep 23, 22 04:50 PM

Printable Would You Rather Halloween Game with fun either or icebreaker questions to get your party off to a howling start.

Sep 08, 22 12:25 AM

Printable Halloween pass the gift game poem for 10 players or more. Wrap enough treats and gag prizes to give one per guest or play the game white elephant style.

Sep 06, 22 01:38 PM

Printable Halloween picture puzzle game with 12 clues to 2 syllable words associated with All Hallows Eve. Brain stimulating fun for home and school parties.