Jennah's Bridal Shower Info
Bridal Shower Info and Gift Ideas
for Jennah May Hostetler
Jennah said, "Yes" to Cam and we're celebrating with a bridal shower in her honour on August 25th at 7pm. To help Jennah prepare for her new position as housewife (aka domestic engineer) plan to participate in this exciting event. Details and gift ideas below.

WEDDING GIFT IDEAS LIST/REGISTRY

Now that the shower is over, those of you who have been looking for gift ideas for Cam and Jennah's wedding can click here for the LIST.


Jennah's Bridal Shower Invitation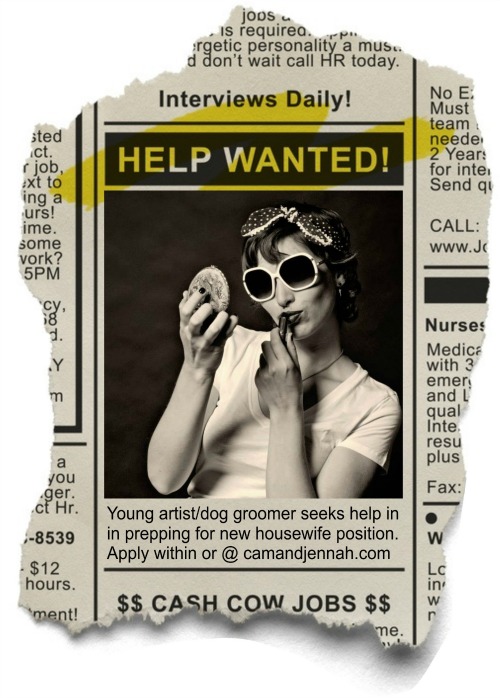 Photos of Jennah used in the invite were taken by the talented Charity Blaine - A Lovely Little World 
Bridal Shower Info
Printable Tags (available soon)
RSVP
Shower Details
Jennah's bridal shower will be held on Monday, August 25th, 2014 at 7pm at the home of Tonia tenBrinke (address on invitation above). Please use the RSVP form immediately below or contact us via the phone number or email in the invitation above to let us know whether you plan to attend or not.
We want to add a little creative fun to the shower so we asking all those who are willing to bring a low cost or no cost household item along to the shower and label it with a funny or serious dual purpose.  (eg. A rolling pin has often been to referred to as a husband trainer... in fun, of course).
Need inspiration? Check out these Life Hacks or some of Haley's Handy Hints. There's even more fun ideas at Hailey's Helpful Hints, but really... the sky is the limit, so we encourage you to feel adventurous and come up with your own idea if you are so inclined. We hope to provide Jennah with some fun tools and products she'd never find at the store. :)

I'll be adding some printable tags you can use for your items soon.


Bridal Shower and Wedding Gift Ideas
In lieu of a registry  Jennah has provided me with a list of items that she and Cam still need for their home. That list is immediately below, followed by sample Amazon items I asked the couple to choose in order to provide us all with an idea of her home's style and colours.  

NOTE: Items in light grey below were received at a recent shower.  There is a form below to notify me of any items you purchase. I will change those items to light grey also to help limit duplicates. Thanks Everyone! - Jennah's Aunt Wendy


KITCHEN

Frying Pans
Pots and Pans
Hand Mixer
Popcorn Maker
Bread Maker
Toaster (4 slice wide)
Toaster Oven
Crock Pot
Waffle Maker.Grill
Coffee Maker
Serving Bowls
Dish Set
Tupperware Containers (lunch)
Mixing Bowls
9X13 Casserole Dish
Glasses
Coffee Cups
Cream and Sugar Pots
Tea Set
Kettle (stove top)
Roasting Pan
Cookie Sheets
Tablecloth
Dish Cloths
Dish Towels/Tea Towels
Oven Mitts
Utensils/Cutlery
Steak Knives
Knife Set (black or wooden handles)
Ladles
Wooden Spoons
Serving Spoon Set
Spatulas
Spices
Cutting Boards
Hot Plates
Measuring Cups
Measuring Spoons
Kitchen Scissors
Can Opener (hand)
Pizza Cutter
Whisk
Cheese Grater
Strainer
Potato Peeler
Tongs
Ice Cream Scoop
Milk Container
Cookbook
Dutch Teaspoons

LIVINGROOM

Bean Bag Chair (comfy)
Throw Pillows
Picture Frames
Wall Mirror
Wall Clock


BATHROOM

Towels (aqua/white)
Hand towels
Face Cloths
Bath Set
Plunger
Toilet Brush


BEDROOM

Duvet
Pillows
Queen Size Sheets (white)
Lamps


MISCELLANEOUS

Fan
Iron
Ironing Board
Sewing Machine
Full Length Mirror
Broom
Dust Pan
Mop and Bucket
Photo Albums
Picnic Basket
Vacuum Cleaner (canister)
BBQ
BBQ Utensils
Rake
Snow Shovel


GIFT CERTIFICATES

Home Sense
Canadian Tire
Target
Ikea
***Kitchen colours are red, white and black. Bathroom is aqua and white. Livingroom is earthy (think forest colours). 


Jul 25, 23 02:35 PM

Fun and challenging baby animal name game. What baby animal names do these 15 image clues rhyme with? Challenge yourself and your party guests. Free printable game and answers.

Jun 27, 23 02:30 PM

Challenge friends and family with this July 4th songs trivia quiz based on patriotic lyrics. From traditional to modern, there's a song for every generation.

Apr 26, 23 04:28 PM

Guess the Princess from an image of something they are associated with like a chameleon for Rapunzel or a pea for Princess Daria. Printable game with answers.
Jennah's Bridal Shower Info