A Casino Theme Party
Chic to Casual... It's a Hit!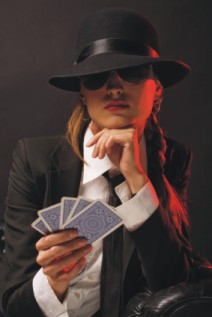 Casino Theme Party Game
The casino theme party has increasingly become one of the most popular choices for parties and gatherings. The undeniable success and positive feedback from both hosts and guests have made it a proven option for an evening of fun and excitement.

Whether you are planning a small, intimate get-together or a larger event such as a fundraiser, corporate party, reunion, or graduation, a Casino Theme Party Night is the perfect way to ensure that your guests are occupied and entertained .

So... grab your poker chips and a deck of cards, and lets begin preparing that unforgettable party. 


Casino Theme Party Ideas
You might decide to re-create Las Vegas or choose the more sophisticated Monte Carlo resort.

You may prefer a casual tropical holiday, a gangster casino, or a western poker saloon.

Whatever you choose, it is important to determine the atmosphere you are trying to achieve.

Your theme sets the mood for the night, dictates the activities played, costumes worn, decorations chosen, and food served.


Casino Party Decorations
Transforming your venue into an authentic casino atmosphere is both easy and inexpensive. You can make your own decorations or choose from a large variety of pre-made casino night theme party decorations.


Casino Party Invitations
Your invitations should fit your casino theme and include all important information. Choose from several creative and easy to make options (writing your invitations on playing cards), or select pre-designed casino party invitations that are either purchased or computer generated.


Casino Party Game Ideas
Of course, a casino night should include typical casino games such as poker, blackjack, roulette, and craps. If possible, arrange for a couple of friends to act as dealers at your tables. You could even use PS2, XBox, or laptop computers to provide some other casino games and the sounds associated with a casino. Fake money for game play would also be an option. The guest with the most money at the end of the evening gets a prize.
Your choice of activities may vary depending on your theme; however, you might also want to consider including a few non-casino activities for your guests who would prefer such alternatives.
Adding a small dance floor and great music for dancing is one option. If one of your friends would be willing to act as a suave DJ throughout the evening, that would add some fun too. He/she could even do a raffle or two during the party.


Casino Theme Party Food
Food does not have to be theme related, although your choices can add to the authenticity of your party (barbecue for a tropical theme or fancy Hors D'ouevres for a Monte Carlo theme). Whatever you serve, a buffet of easy to eat finger foods is the best option, allowing your guests to participate in activities and nibble at their leisure.
Adding a martini bar with cocktails and/or mocktails for your guests is a nice touch. You might even want to give the drinks creative names to go with the theme of your casino party.


Casino Party Favors/Prizes
You may wish to offer prizes to the biggest winner, the biggest loser, the best dealer, or best dressed. Of course, it is always thoughtful to give each guest a small gift or favor to commemorate the evening and to thank them for making your party a success.


Casino Theme Party Games and Favors
Feb 10, 20 05:20 PM

Fill in the blanks for this love letter mad lib and enjoy reading it back at your next valentine party, bridal shower, all girl get-together or birthday party.

Feb 08, 20 10:52 PM

This Oscar trivia will test you on how much you remember about the Academy Award ceremonies that celebrate the best movies ever made. Updated February 8, 2020.

Feb 08, 20 11:34 AM

Guess the titles of these romantic movies from their synonymous alternate titles. A fun and challenging game for a Valentine Day party, bridal shower, or cozy evening conversing with your sweetheart.