CLUE Murder Mystery Party
by Katie
(Illinois)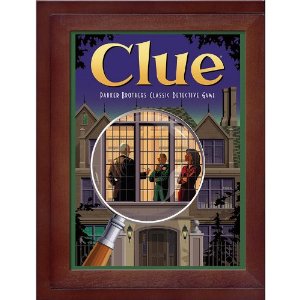 Clue Murder Mystery Game
CLUE is a great idea for any party. In my own version of a Clue murder mystery party, the characters are based off of gemstones instead of the six colors, (ex. onyx, sapphire) so that more people can play. The only negative part of the game is that the hostess cannot play because they already know the answer.
Make 2 cards for each of the suspects, rooms, and weapons. (Keep the ones with the answer to the mystery in an envelope.)
There are 3 each of the special cards (magnifying glass, footprint, and money).
The magnifying glass allows a player to see another player's score sheet.


The footprint allows a player to send another player in for "questioning", which is a 3 minute penalty from playing.


The player that finds the footprint gives it to the police (this role can be designated to any player) and then they track down the other player.
The money can be used by a player to bribe the hostess and ask one question about any suspect, room, or weapon.
Also, hide an actual weapon (squirt gun, candlestick, wrench) somewhere in the rooms. If a player finds the weapon they can "kill" another player and they are out, but if they're caught at the scene of the crime they are arrested and out of the game.
Once all the cards are made distribute them evenly among the rooms. Have players run around the area with kits of: pen, a score sheet to keep track of your clues, a flashlight, and whatever else you think is necessary.
When a player is ready to make a guess have all the players gather in a room. If they're wrong, play continues and they are out.