Cocktail Party Games
Guess the Popular Cocktail Names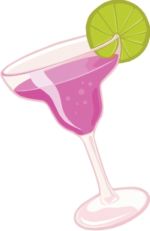 Cocktail party games can loosen up your guests early on and get them talking. So, why not start your cocktail party off by testing the knowledge your guests have of popular cocktail names. Who knows... maybe there is an aficionado among them that you can coax into mixing up some fun new cocktails for your guests.
Read the synonymous descriptions and definitions aloud and award a small prize to the first person to guess each one correctly or distribute a copy of the printable list to individuals or teams and award a prize to the person or team that correctly identifies all of the cocktails.
Example: Nectar for an Older Woman on the Prowl = Cougar Juice

---
Guess the Cocktail
01. Blushing Aristocrat

02. Out of Focus Bellybutton

03. Minty Locust

04. Pallid Tundra Dweller

05. Oxidized Mini Spike

06. Miry Avalanche

07. Hemoglobin Covered Poppins

08. Reanimated Dead Person

09. Briny Tail-Wagger

10. Yellow Bonbon
---
Cocktail Names Game Answers
01. Pink Lady / 02. Fuzzy Navel / 03. Grasshopper / 04. White Russian / 05. Rusty Nail / 06. Mudslide / 07. Bloody Mary / 08. Zombie / 09. Salty Dog / 10. Lemon Drop
---
For a printable version of this cocktail party game
please fill in the form below.
More Cocktail Party Ideas
Join in on Party Chats at Diva Girl Parties and Stuff Facebook.


Nov 30, 17 04:07 PM

The Night Before Christmas trivia questions based on Clement Clarke Moore's famous poem. It's harder than you might think!

Nov 27, 17 02:41 PM

For an easy holiday party game, use this fun - Are You Ready for Christmas? - point list to determine who is most ready for Christmas. Award a prize to the winner and a lump of coal to the loser.

Nov 25, 17 06:30 PM

Name that Christmas Movie is a fun Christmas party game that involves guessing a popular Christmas movie by clue titles synonymous with the original titles. Bet you can't guess them all!