Tips For Hosting An Elegant Cocktail Party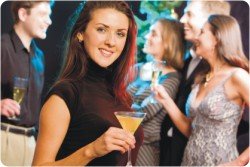 Elegant and sophisticated, the cocktail party is as fashionable as ever. The timeless quality of cocktail parties can be attributed to the sheer fluid nature of them.
At cocktail parties drinks flow freely and delectable bite-sized appetizers are served endlessly as guests mingle easily with one another.

Cocktail parties are far removed from formal dinners where the conversation is limited and guests sit in one place for a couple of hours as they go through a seven-course meal, whether they like it or not.
As any experienced cocktail party host will attest, the preparations are quite different from regular parties and the more pre-planning you do, the more time you will have to mix and mingle with your guests and enjoy the evening. Here are a few tips that will help you make a stylish entrance into the world of cocktail party entertaining.
Make sure you have plenty of glasses in an assortment of styles to cover the different types of drinks you plan to serve. This should include red and white wine glasses, straight sided highball glasses for tall drinks, goblets and martini glasses.
Wine glass charms can help guests identify their glass of champagne, martini or wine as they mingle with other guests at your party.
Be prepared with plenty of ice. You will need it for serving drinks on the rocks and for using crushed in various cocktails as well as for chilling bottles of wine or beer.
For a complete cocktail bar you'll need to stock up on a mix of red and white wines, vodka, whiskey, tequila, gin, rum, bourbon, brandy, sherry and vermouth.
The mixers and garnishes are equally important. Included in the list of mixers are a variety of juices, soda, tonic, cola, ginger ale, limes, lemon and Worchester sauce. For garnishes keep plenty of pimento stuffed olives, lemon wedges and lemon slices, orange wheels and an assortment of frozen berries.
Don't forget the stirrers. They'll raise the style quotient of your party up a few notches.
If you have a really large guest list, you may want to consider hiring a bartender for the night so that you have more time to socialize with your guests.
Spend some time on planning the menu. The beauty of planning cocktail party food is that it can be a completely eclectic selection of appetizers. Anything goes as long as it is easy to eat. Strive for variety and include a diverse selection of hot and cold dishes, sea foods and vegetarian as well as non-vegetarian finger foods and canapés.
Cheese cubes and olives skewered onto cocktail picks are a favorite at any cocktail party and go down well with any alcoholic as well as non-alcoholic drink.
For a modern sweet, serve some mini cupcakes in fancy flavors like this lemon cupcake recipe or this raspberry chocolate cupcake recipe - be decadent!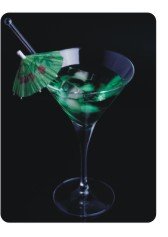 Don't overdo it on D-Day. Now that you've got all you need for your party, relax.
Just before your guests are due to arrive, slip into your party attire, do up your hair, put on your make up and get ready to party!
Dim lights and jazz music add an understated elegance to a perfect cocktail party.
Do organize some coffee for those guests who are enjoying themselves so much they refuse to leave before sunrise.


Special thanks to Lisa from Cupcake Creations for this great article on cocktail parties.
Be sure to check out her article on unusual cocktail recipes too.


Cocktail Party Favors and Recipes

Serve unusual cocktail party drinks using Lisa's recipes
and these cocktail making videos.

Cocktail Party Games
Jul 25, 23 02:35 PM

Fun and challenging baby animal name game. What baby animal names do these 15 image clues rhyme with? Challenge yourself and your party guests. Free printable game and answers.

Jun 27, 23 02:30 PM

Challenge friends and family with this July 4th songs trivia quiz based on patriotic lyrics. From traditional to modern, there's a song for every generation.

Apr 26, 23 04:28 PM

Guess the Princess from an image of something they are associated with like a chameleon for Rapunzel or a pea for Princess Daria. Printable game with answers.