Corporate Christmas Party Ideas
Fun, Games, Food, and More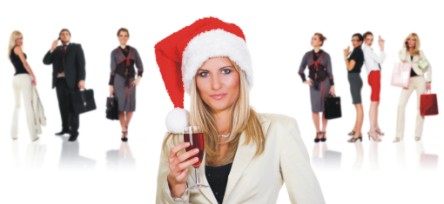 The most suitable corporate Christmas party ideas for any office or company party are as diverse as the businesses they represent.
Knowing your workers and providing a fun and relaxing atmosphere for them will add greatly to the success of your event.
Including party games at your corporate Christmas party is important - choosing the right ones is vital. Activities should include everyone who wishes to be involved while still allowing people to mingle and socialize; however, participation should not be a requirement. 
The purpose of the party is to get to know each other better and build stronger team relationships. You want to avoid making employees and their guests feel uncomfortable or embarrassed.
Putting too much emphasis on the food and not enough on the fun is one common criticism of many corporate Christmas parties. While it is important, surprisingly enough , most people don't come for the food, and the cheesecake, no matter how exquisite, will not have them anticipating next year's gala.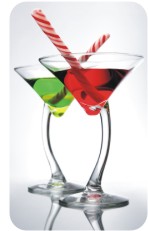 Most companies choose to have their corporate Christmas partycatered and are discovering that an open buffet is often preferable to a lavish, multi-course dinner.
Having several hosts mingling through the crowd taking drink orders, or offering appetizers and finger foods is a nice alternative to being held captive at an assigned table, and encourages guests to socialize with a larger number of people without feeling the awkwardness of carrying on a long conversation. That classy, elegant feel can still be achieved, and your guest will feel more comfortable.
Again, entertainment varies depending on the theme and atmosphere of the party. You could have a live band with an open dance floor, or a stringed quartet playing classical Christmas music. Comedians, impersonators, and magicians are also a popular choice. Having an open mike time is a great opportunity for guests to share humorous stories or recognize co-workers achievements. Or, a talent show is a way to highlight the gifts among you without the entertainment expense, and guests would enjoy hearing the boss sing or the CEO try his hand at stand up comedy.


Since Christmas is the season of giving, the corporate Christmas party would not be complete without gifts. Prizes for winning games are a great way to encourage participation, but it is important that no guest leave empty handed. Chocolates in little boxes are nice, but why not try personalized Christmas M&M's. Even though they are inexpensive, they show a lot of thought and consideration.
Giving each guest a personalized Santa hat is an excellent substitute for name tags and makes a great memento. You could also give a personalized ornament, an engraved picture frame, or a Christmas cracker with a bonus cheque inside. Gifts don't have to be expensive, they just need to have that special, thoughtful touch that makes employees feel important and valued.
If you incorporate innovative ideas with amazing decorations and great entertainment your corporate Christmas party will be the talk of the town and the most anticipated event of the holiday season.
To commemorate your party, you may want to hire or designate a photographer, or even have disposable cameras in various places so guests can capture some of those unforgettable moments. Pictures could be posted on an office website to remind everyone just how much fun a company Christmas party can actually be. In fact, a pre-party web page could be designed to give necessary details, post the growing guest list, and raise the excitement level.
Corporate Christmas parties have often gained the reputation of being stuffy, boring, and unbelievably predictable; but, the time has come to begin planning the party that will forever change the face of corporate gatherings. No more will employees groan when they receive that dreaded invitation. From now on, at the first hint of winter, your staff will be checking their office mail boxes (or in boxes), anxiously awaiting details about the much acclaimed Corporate Christmas party.



More Corporate Christmas Party Ideas

Corporate Christmas Party Ideas - Ring a Bell Game
Corporate Christmas Party Ideas - Murder Mystery

Feb 24, 20 03:36 PM

This Tale of Peter Rabbit right left game is fun gift or prize giving. Read the story. Pass the prizes left or right. Great for school, parties, or Easter.

Feb 24, 20 02:07 PM

Use this Right Left Easter Game as a alternative way to exchange Easter treats and share the Bible Easter story. It's a great icebreaker for church parties and family Easter celebrations.

Feb 10, 20 05:20 PM

Fill in the blanks for this love letter mad lib and enjoy reading it back at your next valentine party, bridal shower, all girl get-together or birthday party.