Celebrate Dog in Politics Day
All the Presidents' Dogs Game
Richard Nixon gave a speech on September 23, 1952 that came to be known as the Checkers speech. The day is known as Checkers Day or Dog in Politics Day.
You can get the history of why the day came to be HERE!
In honor of Checkers Day, I prepared the following game for you to print and play.  It also makes a fun, educational school activity for teachers to share with their students.
Scroll below if you'd like a printable version of the quiz and the answer sheet.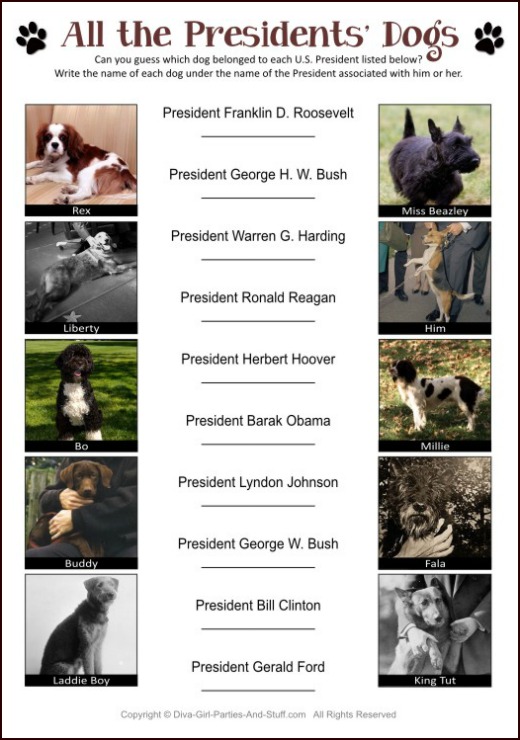 So, did you recognize any of the famous pooches?  They're all pretty adorable, aren't they?  Who can resist man's best friend.  Not even Presidents can.
Find out which dog belongs to which President by requesting the answer sheet and printable game below.

Be sure to give your dog an extra hug and treat on Dog in Politics Day.  Oh, and while you're at it, ask him or her for their input on who you should vote for next election. Dogs have great instincts.


Note: Due to the number of images in the game it may take a little time to download if you have a slower connection.  


Jan 17, 19 04:35 PM

Internet survey results and instructions for a game of Easter Family Feud. A fun, interactive game that will get your Easter gathering hopping.

Jan 14, 19 02:20 PM

Help create a Super Bowl Family Feud party game by answering questions related to football and the Super Bowl.

Jan 10, 19 01:03 PM

Challenge your Super Bowl party guests to a Super Bowl trivia with this printable multiple choice quiz. Last updated on Jan 15 2018.