Celebrate Dog in Politics Day
All the Presidents' Dogs Game
Richard Nixon gave a speech on September 23, 1952 that came to be known as the Checkers speech. The day is known as Checkers Day or Dog in Politics Day.
You can get the history of why the day came to be HERE!
In honor of Checkers Day, I prepared the following game for you to print and play.  It also makes a fun, educational school activity for teachers to share with their students.
Scroll below if you'd like a printable version of the quiz and the answer sheet.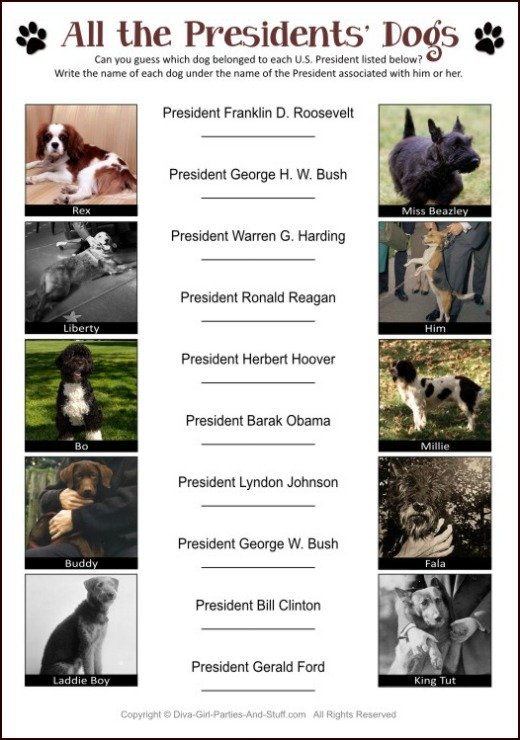 So, did you recognize any of the famous pooches?  They're all pretty adorable, aren't they?  Who can resist man's best friend.  Not even Presidents can.
Find out which dog belongs to which President by requesting the answer sheet and printable game below.

Be sure to give your dog an extra hug and treat on Dog in Politics Day.  Oh, and while you're at it, ask him or her for their input on who you should vote for next election. Dogs have great instincts.


Note: Due to the number of images in the game it may take a little time to download if you have a slower connection.  


Sep 03, 19 05:55 PM

10 printable princess tea party bingo cards with draw cards. Print in color or black and white. Use candy or pencils to mark squares as they are called.

Jun 30, 19 09:15 AM

Canada Day ideas to add fun and colour to your celebration.

Jun 25, 19 01:34 PM

Challenge friends and family with this July 4th songs trivia quiz based on patriotic lyrics. From traditional to modern, there's a song for every generation.