Family Reunion Scavenger Hunt
by Wendy
(Oklahoma)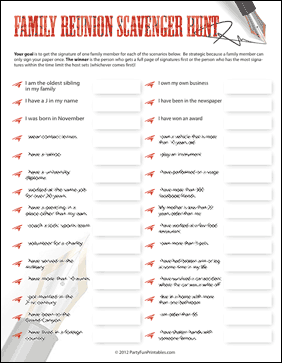 Printable Family Reunion Scavenger Hunt
I am looking for some ideas that will bring together our family. We are traveling from all over the United States and to pass the time getting to our destination we would like to have a scavenger hunt. We are all in our 20s - 50s with young kids (10 and under.) Any ideas would be appreciated. Thank you so much!

Wendy

Reply:

Austin shared a road trip family scavenger hunt list here that might work for your trip.

Also, there's a fun printable family reunion scavenger hunt available Party Fun Printables!