Fun Christmas Party Game
Name That Christmas Movie
Do you think you can guess the answers to this fun Christmas party game?

It's one of those games that's challenging enough for adult Christmas parties, Christmas office parties, and more.... AND it makes for a great Christmas partyicebreaker.

Challenging is FUN!
I'm guessing you can't guess all of these Christmas movies from their new titles, but let's find out...
The titles of familiar Christmas movies have been changed.
Read the new titles and guess what the original Christmas movie title is.
Hand out the list and have guests compete to fill in the titles the quickest or give a time limit and award a prize to the guest who guessed the most correctly.
To make this fun Christmas party game more of an icebreaker, randomly read the crazy new titles below during the party and award small prizes to those who answer correctly first.

Get a free printable copy of this game HERE.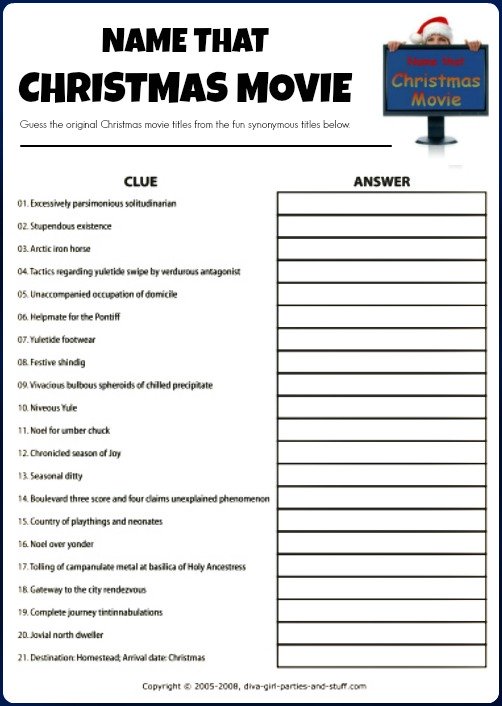 Name That Christmas Movie Clues
01. Excessively parsimonious solitudinarian
02. Stupendous existence
03. Arctic iron horse
04. Tactics regarding yuletide swipe by verdurous antagonist
05. Unaccompanied occupation of domicile
06. Helpmate for the Pontiff
07. Yuletide footwear
08. Festive shindig
09. Vivacious bulbous spheroids of chilled precipitate
10. Niveous Yule
11. Noel for umber chuck
12. Chronicled season of Joy
13. Seasonal ditty
14. Boulevard three score and four claims unexplained phenomenon
15. Country of playthings and neonates
16. Noel over yonder
17. Tolling of campanulate metal at basilica of Holy Ancestress
18. Gateway to the city rendezvous
19. Complete journey tintinnabulations
20. Jovial north dweller
21. Destination: Homestead; Arrival date: Christmas


For a FREE printable version of this game, please fill in the form below. 
Answers to this fun Christmas party game are also below.

To view this printable Christmas movie trivia, you will need Adobe Reader installed on your computer (the latest version is recommended). You can get your free Adobe Reader here (a new window will open so you can download without leaving this page).
Name That Christmas Movie Answers
01. Scrooge
02. It's a Wonderful Life
03. The Polar Express
04. How the Grinch Stole Christmas
05. Home Alone
06. The Bishop's Wife
07. The Christmas Shoes
08. Holiday Affair
09. Frosty the Snowman
10. White Christmas
11. A Charlie Brown Christmas


12. A Christmas Story
13. A Christmas Carol
14. Miracle on 34th Street
15. Babes in Toyland
16. Beyond Christmas
17. Bells of St. Mary's
18. Meet Me in St. Louis
19. Jingle All the Way
20. The Santa Claus
21. I'll Be Home For Christmas 


Christmas Movie Quotes Game
Christmas Movie Quotes Game by Party Fun Printables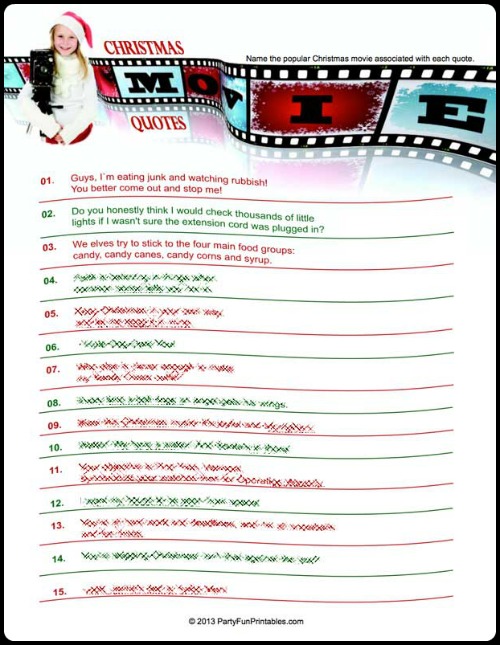 Feb 12, 23 04:19 PM

Add an extra challenge to game day with this Super bowl picture puzzle rebus. Guess the names of 10 players from the Kansas City Chiefs and Philadelphia Eagles.

Feb 12, 23 04:16 PM

Host a Super Bowl party with great food, games and friends. Add our Super Bowl trivia questions and icebreakers, and get everyone's game predictions pre-party.

Nov 23, 22 03:29 PM

12 days of Christmas legend game based on lyrics used as a secret code to share faith and avoid persecution. Match each gift with its symbolic Christian meaning