Funky Tater Salad
by Anne Taylor
(Victoria BC Canada)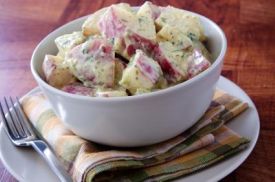 Funky Tater Salad
A Family Reunion Picnic Recipe Packed With Flavor
Ingredients:


Red potatoes


Bacon (crisped)


Baby spinach


Whole grape tomatoes


Zesty Italian dressing
How to Make Funky Tater Salad


Boil some new red taters till just tender.


Cut up the taters into smaller pieces.


Put taters in a bowl.


Crumble in some crisp bacon.


Throw in some fresh baby spinach leaves and some whole grape tomatoes.


Pour some zesty Italian dressing or your own homemade dressing of choice over everything.
Comments:
Annie ~ Buffalo, New York
Sounds delicious! I love potato salad so I'll be trying this recipe for sure. Do you serve this warm or chilled?
Janine ~ Manitoba, Canada
Yum! Red potatoes and spinach are my favorites. I wonder what Greek or Caesar dressing would taste like with this recipe? No time like the present to give it a try. The only thing I might exclude are the tomatoes.
Return to Family Reunion Ideas.
Nov 23, 22 03:29 PM

12 days of Christmas legend game based on lyrics used as a secret code to share faith and avoid persecution. Match each gift with its symbolic Christian meaning

Sep 23, 22 04:50 PM

Printable Would You Rather Halloween Game with fun either or icebreaker questions to get your party off to a howling start.

Sep 08, 22 12:25 AM

Printable Halloween pass the gift game poem for 10 players or more. Wrap enough treats and gag prizes to give one per guest or play the game white elephant style.