Glow in the Dark Neon Night Pool Party
by Fifteen and Counting
(Hawaii)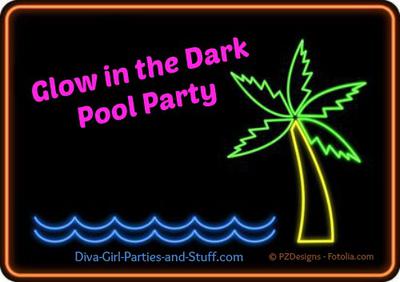 I have been to too many pool, beach, and luau themed birthday parties, especially since I live in Hawaii. I decided to have my birthday party at night.

The first theme that popped up into my mind that associated with a night pool party was a neon glow in the dark themed pool party.


Pool Party Decorations
I ordered neon bright colored tablecloths, paper plates, glow in the dark accessories, glow in the dark balloons, bright neon streamers, cups, and neon silverware from Amazon, which is way cheaper than buying from Party City. I would have ordered a backlight if only it was cheaper since everything I bought on Amazon was all less than $10.
We also cut up a glow in the dark bracelet and poured the glow in the dark liquid into the bubble machine. The bubbles were now glowing in the dark and were colorful.
As the centerpiece, we had bright neon colored flowers in a colorful vase with a bright colored fish inside.
Battery powered candles were put surrounding the centerpieces. Glow in the dark streamers and balloons decorated the place.
Amazon Glow in the Dark Party Supplies
Pool Party Games and Activities
For the games we filled up neon water balloons and did a water balloon toss, this was great for the little kids.
For those creative people, we bought a bunch of light colored shirts and glow in the dark fabric paint and markers. They had fun creating their own shirts.
We also played a bingo and
family feud game
. We split up the party into two groups and made them answer questions which I got off the internet.
This theme party had an exotic, colorful, and creative type of feeling to it. I enjoyed planning this very much.
More Pool Party Ideas