Guess That Spice
Bridal Shower and Housewarming Party Game
Game idea submitted by Tracey McKinney (Spring, TX USA)
Guess That Spice is the perfect game for a kitchen bridal shower, especially at a vineyard or a restaurant. 


Put 10 different spices in 10 small jars and place on a nice small tray for each table.



Have guests write the names on a pre-designed sheet decorated with different influences from around the world, like Asian, or Indian.



You can have a "cheat" sheet with 30 or 40 spice names, including the ones they are guessing.

The one that gets the most right will win a spice rack that the bride has registered for and you could "hint" that she did so to everyone in case they wanted to give it to the bride. 

Guess That Spice Game Reply:
Great game idea Tracey. It's always fun and a little challenging to test our senses.

I will assume that the little bottles are labelled 1-10 so that guesses transferred to paper correspond with each ot the numbers.  To assist those who may not have the time or tools to create guess sheets for their guests, I have prepared a Guess That Spice game sheet that can be downloaded and used.  SImply print one for each guest or team.
Alternatively, you could also display small bunches of fresh herbs with tags numbered 1-10 and use the same printable for the game.
For those creating a cheat sheet of spices, here are a few spices that are colorful and popular.
Cinnamon

Rosemary

Garlic

Cloves

Anise

Coriander

Oregano

Basil

Onion Powder

Cumin

Cardamom

Curry Powder

Paprika

Chili Powder

Dill Weed

Ginger

Chives

Mustard Seed

Nutmeg

Sage

Cayenne 

Thyme

Cilantro

Taragon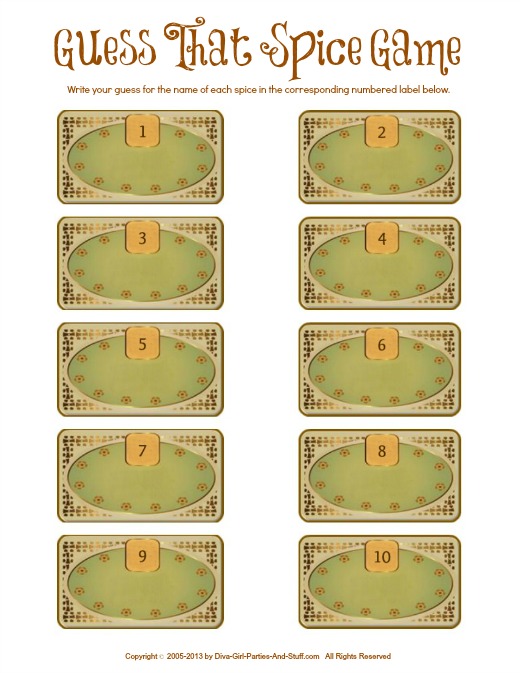 For a full size printable version of this game, please fill in the form below.
Hot and Spicy Trivia Game


Printable Bridal Shower Games



Visitor Comments:
Great Idea 

You could let the participants know ahead of time that they will be trying to "Win a Spice Rack for the Bride". Then, you could give the winner the little sample spices used in the game so they would have something to show for their "knowledge" too.


May 02, 22 10:18 AM

Need some last minute Mother's Day games and ideas? We've got some here...

Mar 16, 22 01:08 PM

Host your best St. Patrick's Day party ever with these cool party games and activities. Challenge friends to a round of green trivia, write funny limericks, or play a right left leprechaun game.

Feb 12, 22 05:36 PM

A challenging list of multiple choice super bowl trivia questions to add to your trivia, football, or Super Bowl parties. Use them as an icebreaker or play a full out competition.