Haunted Hollywood Party Games and Activities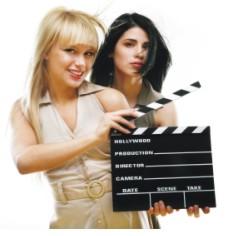 So, can you think of any haunted Hollywood party games?

Use your imagination! What would be fun to play? What would get the group involved?

The possibilities are endless... Movie games, Halloween games, scavenger hunts and trivias are all games that can be tailored for this party.




Do You Have A Mysteriously Fun
Game or Activity Idea?
Share it here and please give as much detail as possible!
Games and Activities
Click below to see the haunted hollywood games and activities that visitors have shared...


Name that Movie Not rated yet
To play Name That Movie, tape some short clips of scenes from popular hollywood movies. Be sure to keep a list of the exact movie titles and the …

Printable Halloween Haunted Hollywood Party Games

More Haunted Hollywood Party Ideas



Join in on Party Chats at Diva Girl Parties and Stuff Facebook.


Mar 16, 18 02:55 PM

The story of St Patrick is one of adventure, mystery, drama, action and more. Make it fun for every age to learn the story with a left right game about his life.

Mar 15, 18 05:59 PM

Try your luck at this Pot O' Trivia St. Patrick's Day trivia game that includes a mixed bag of questions related to the holiday. Printable version available for download including 2 options, one with…

Mar 13, 18 05:08 PM

30 green trivia questions to use at a St Patrick's Day party or trivia night. A printable version is available for download.