Just for Fun!!! 12 Bday Party!!!
by Gabriella Curran
(Jaffrey NH)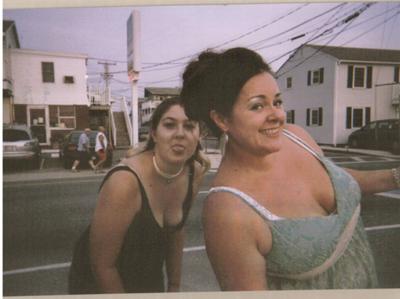 Me and my mom (what we look like now :) I am the 1 that looks younger and not prego (my mom is not fat; shes prego so plz dont make fun of her) thks

I am not very rich but I do have money, and i just wanted to have a fun time. So I invited a couple of close friends to have a bday/slumber party at my grammy's. We had snacks, played fun games, and I scared them telling them it was haunted!!

After I told them the truth. We told ghost stories. And we all had some good times and we all went in my grammy's hot tub!!!! It wasn't anything AMAZING but it was fun and it was good enough for me. And my mom made a homemade pinata.

PLEASE COMMENT AND TELL ME IF YOU HAVE ANY OTHER COOL IDEAS FOR MY 13TH PARTY WHICH IS COMING SOON :) THKS
-GABRIELLA CURRAN FROM JAFFREY, NEW HAMPSHIRE!!!!



Ghost Story Party Game
Join in and write your own page! It's easy to do. How? Simply click here to return to Party Themes.
Nov 06, 19 01:59 PM

To win this Christmas carol game you might need a thesaurus of word knowledge. Can you guess the popular Christmas songs from their fun new synonymous titles?

Oct 18, 19 06:02 PM

Play this ghost story mad lib game at Halloween parties, camp, home, and school. Create a funny scary story that will make you scream with laughter.

Oct 16, 19 02:57 PM

Plan to play Family Feud game Halloween edition at your next Halloween party using our survey Q&As. Check out the fun video to spark ideas for making your game spooktacular. Time to play!