Baby Shower Games by Kit N Kaboodle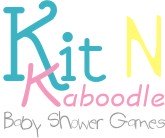 Kit N Kaboodle, a regular poster at All About Showers has created some fun baby shower game pages over the last couple of years that she is making available to anyone wishing to use them.

This page has been set up to make it easier for you to download the games when you need them. If you do use these games and enjoy them, please take a moment to send Kit-N-Kaboodle a quick thank you by filling in the form below.


---


Game #1 - Baby Sweet Concentration Game

Write down popular candy and candy bar names that fit the definitions associated with birthing and babies.

Printable Baby Sweet Concentration Game


---

Game #2 - Nursery Rhyme Rhetoric

Guess popular nursery rhymes from the definitions given.

Printable Nursery Rhyme Rhetoric


---
Game #3 - Baby Word Scramble

Rearrange the scrambled letters to spell words associated with babies.


---

Game #4 - Baby Animal Game

Try to name as many animal babies as you can.

Printable Baby Animal Game


---

Game #5 - TV Show Children Game

Name the tv children of a variety of popular TV shows.

Printable TV Show Children Game


---
If you have a question about these baby shower games or wish to send a Thank You message to Kit N Kaboodle, please fill in the form below. An email address is only necessary if you need a response from us.


The Poem Lady's Baby Shower Candy Poem Game


Nov 23, 22 03:29 PM

12 days of Christmas legend game based on lyrics used as a secret code to share faith and avoid persecution. Match each gift with its symbolic Christian meaning

Sep 23, 22 04:50 PM

Printable Would You Rather Halloween Game with fun either or icebreaker questions to get your party off to a howling start.

Sep 08, 22 12:25 AM

Printable Halloween pass the gift game poem for 10 players or more. Wrap enough treats and gag prizes to give one per guest or play the game white elephant style.