La Vie en Rose Mango and Nectarine Jam
La Vie en Rose Mango and Nectarine Jam
by Paola Westbeek
(Almere, The Netherlands)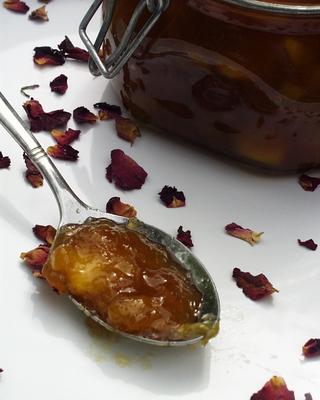 La Vie en Rose Mango and Nectarine Jam

*1 ripe mango (about 600g whole and about 300-350g peeled and chopped)
* 6-7 ripe nectarines (about 900g whole and about 600-650g peeled and chopped) *500g blond cane sugar, suitable for making jam
*2 tbsps rosewater
*2 tbsps dried rose petals (it is essential that you get petals suitable for consumption and NOT sprayed with chemicals)


First sterilize your jars: wash them out well with hot water and then let them dry in a 140C oven. Leave them in the oven until you are ready to use them. Peel and cut your fruit. To peel the nectarines, simply immerse them in boiling water for 2-3 minutes and then plunge them into cold water. With the point of a knife, make an X on the underside of the fruit and remove the skin. Chop your fruit according to the consistency you want your jam to be. I chopped mine pretty roughly. Put all the ingredients in a large pot, stir well and let cook on medium heat for about 45 minutes, stirring occasionally. Let stand for 10 minutes before ladling into two 1/2 liter jars.
Return to Family Reunion Ideas.
Nov 25, 23 03:52 PM

Printable left right Christmas game based on the story of Scrooge from A Christmas Carol by Charles Dickens. Read the story and pass gifts left and right.

Nov 20, 23 05:55 PM

A crazy Christmas scavenger hunt involves finding unusual Christmas items that have been set up in the hunt area ahead of time. Will your guests spot that Rudolph has a green nose, etc.?

Nov 20, 23 04:58 PM

Over a dozen Christmas scavenger hunts to celebrate the holiday season. Tons of fun Christmas treasure hunt riddles, clues and printable lists.