La Vie en Rose Mango and Nectarine Jam
by Paola Westbeek
(Almere, The Netherlands)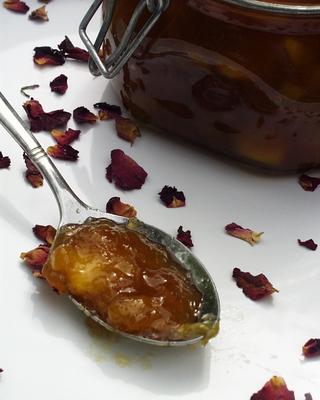 La Vie en Rose Mango and Nectarine Jam

*1 ripe mango (about 600g whole and about 300-350g peeled and chopped)
* 6-7 ripe nectarines (about 900g whole and about 600-650g peeled and chopped) *500g blond cane sugar, suitable for making jam
*2 tbsps rosewater
*2 tbsps dried rose petals (it is essential that you get petals suitable for consumption and NOT sprayed with chemicals)


First sterilize your jars: wash them out well with hot water and then let them dry in a 140C oven. Leave them in the oven until you are ready to use them. Peel and cut your fruit. To peel the nectarines, simply immerse them in boiling water for 2-3 minutes and then plunge them into cold water. With the point of a knife, make an X on the underside of the fruit and remove the skin. Chop your fruit according to the consistency you want your jam to be. I chopped mine pretty roughly. Put all the ingredients in a large pot, stir well and let cook on medium heat for about 45 minutes, stirring occasionally. Let stand for 10 minutes before ladling into two 1/2 liter jars.
Return to Family Reunion Ideas.
Apr 26, 23 04:28 PM

Guess the Princess from an image of something they are associated with like a chameleon for Rapunzel or a pea for Princess Daria. Printable game with answers.

Feb 12, 23 04:19 PM

Add an extra challenge to game day with this Super bowl picture puzzle rebus. Guess the names of 10 players from the Kansas City Chiefs and Philadelphia Eagles.

Feb 12, 23 04:16 PM

Host a Super Bowl party with great food, games and friends. Add our Super Bowl trivia questions and icebreakers, and get everyone's game predictions pre-party.