Movie Party
by Valerie
(Vernon, NY, USA)
I need help planning a movie party. I'm having girls ages 10 to 15 at my party. I need fun and simple games to keep everybody having fun. I also need activities to do with all of these people.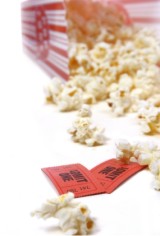 Movie Party Response:

Hi Valerie!

I assume you will be watching movies for one of your activities.

If the invitations haven't gone out yet you could ask your guests to come dressed as their favorite movie star and then have a photo shoot or a competition to determine who looks the most like the actor/actress they are portraying. They could also compete to act out a short scene the actor/actress they are portraying has done.

If you have magazines that have lots of photos of movie stars (get them at the movie theater if you don't) you can cut out 1/4 or each star's face and then have your guests try to determine which actor/actress each is by just seeing that small piece.

Movie trivia is always fun. There are tons of them around that you can use or you could make up your own using your favorite movies.

Movie Charades is a classically fun game, as well as movie Pictionary.

Try a game of Famous Lines. Make a list of famous quotes from different movies and have your guests try and guess what movie they are from.

I have a hollywood scavenger hunt that I created that could be tweaked for your party. I would need a list of 12-16 SPECIFIC hiding places in and around your house (eg. garage, mailbox, fridge).

Wendy


The Movie Trivia you requested is now available at https://www.diva-girl-parties-and-stuff.com/mixed-movie-trivia.html

The Favorite Movie Survey is part way down the page at https://www.diva-girl-parties-and-stuff.com/party-ideas.html.

The top four favorite movie suggestions thus far are Legally Blonde, Sixteen Candles, Pretty in Pink, and Valley Girl



To VIEW more great info and questions on this topic click below on "Click here to read visitor comments."

To ADD more questions, info, or feedback fill in the form immediately below.