Office Party Team Building Scavenger Hunt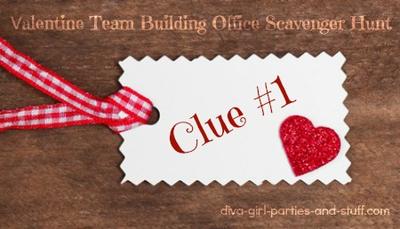 Office Valentine Scavenger Hunt
We're having a Valentine's Day event and want a scavenger hunt for the team to participate in during the rest of the day. It's a large office, but only one team of 26 participating in the event. The age range is 30's-60's, men and women.

Reply:

To clarify, you are look for a team building scavenger hunt for an office party and there will only be one team consisting of 26 people participating. Is that correct?

A team of 26 in an office setting solving clues could make it difficult to ensure everyone could participate equally. It can be done, but I'll need to be sure to any challenge works for a team that large.

Does the challenge lead to a prize, reward, bragging rights (probably not bragging rights if it's one team)?

Do you want all clues and challenges contained within the office building and do you want them somehow connected with the office and it's people or Valentine's.

Eg. Find the employee that's been married the longest. (Valentine related)

Divide the number of computers on the 3rd floor by the number of stalls in the women's washroom to find the number of the office your next clue is hidden in. (Office related)

Those were just simple examples.

Does the offices this hunt will be held at have a website where I could get some information for building the hunt?

Any additional information would be really helpful.




Join in and write your own page! It's easy to do. How? Simply click here to return to Your Scavenger Hunt Requests.
Nov 23, 22 03:29 PM

12 days of Christmas legend game based on lyrics used as a secret code to share faith and avoid persecution. Match each gift with its symbolic Christian meaning

Sep 23, 22 04:50 PM

Printable Would You Rather Halloween Game with fun either or icebreaker questions to get your party off to a howling start.

Sep 08, 22 12:25 AM

Printable Halloween pass the gift game poem for 10 players or more. Wrap enough treats and gag prizes to give one per guest or play the game white elephant style.