Plan an Oktoberfest Party for the Best Fall Fun Ever!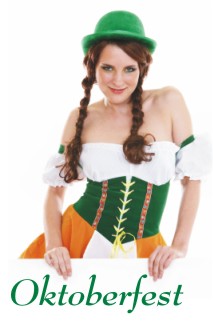 The sights and sounds of fall are in the air. It's time for an Oktoberfest party. 
Good food, good music, and plenty of good old-fashioned German inspired fun make this a must plan autumn event!
So, roll out the barrel, yank up your lederhosen, and get ready to party and dance the night away.
Oktoberfest Party Invitations
Invite your friends to your Oktoberfest party by creating a small cardboard German vest or Fraulein Dirndl and list the party information on the back. The front should be colorful and may be decorated with beads, ribbon, or laces.
You could also make miniature Bavarian checkered flags or German flags and print the invitation on the back.
Since party beads are an important oktoberfest symbol, for another invitation option, purchase medallions and costume necklaces made from blue beads. Both of these items are available at your local dollar store or at the Oktoberfest Party Shop.
Glue an appropriate Oktoberfest picture such as a lion, a barrel, or an Alpine Hat on one side of the medallion and the party information on the other side. Attach the medallion to the necklace using thin wire or thread. Now you have the perfect invitation, and your guests will have the first piece of their Oktoberfest costumes.
More Oktoberfest Invitation Options

Oktoberfest Party Decorations
When choosing decorations for your Oktoberfest party, remember to choose plenty of cobalt blue and white. These are the official colors of the German state of Bavaria, the birthplace of the original Oktoberfest.
To create an authentic Oktoberfest atmosphere be sure to set up long tables with benches. If you have access to a large party tent your guests will feel like they are at a true Munich festival while ensuring that your party will go on, regardless of the weather.
Cover the tables with blue and white diamond checked plastic tablecloths and use matching napkins and tableware. You can purchase Oktoberfest pageant garland and banners or simply use blue and white streamers.
Make up several blue and white balloon bouquets to place around the venue, and hang German flags and posters on fences, trees, or tent walls. Have large glass mugs or mason jars on the beverage table and use glass vases or small wooden barrels filled with bright colored wildflowers or geraniums as centerpieces.
Tip: Travel agencies are a great place to find posters of Germany, and many will give them to you at little or no cost.
Oktoberfest Food

No Oktoberfest party is complete without the trademark Bratwurst. Other traditional foods include Bavarian potato salad, red cabbage with apples, sauerkraut, black forest cake, and German Chocolate cake (click here for recipes) and of course, the ever-popular Bavarian pretzels.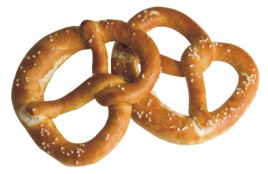 Of course, Oktoberfest usually involves drinking; but, to ensure everyone has a fun and safe party, many non-alcoholic options are now being offered. You may wish to include some of these great choices in your beverage selection.
Since Oktoberfest is traditionally a fall festival, apple cider is a popular preference, as well as root beer, non-alcoholic beer, and sparkling water. Spezi is also a common, easy to make, alternative.
Oktoberfest Games And Activities
An Oktoberfest party is all about the fun, so be sure to include a variety of activities. A dirndl decorating contest is a great way for your guests to express their creativity. Simple vests can be made from paper or felt and then decorated with beads, lace, ribbons, artificial flowers, and anything else you wish to add.
You could also set up an area with various carnival games and hand out body tattoos as prizes.
If you have access to wooden barrels, a barrel rolling race is a lot of fun. Plastic barrels or large, empty garbage cans will also work and can be decorated to suit your theme.
Dancing is an absolute must for your Oktoberfest party. Aside from hiring a live Oompah band, Oktoberfest music is difficult to find in stores, but can be ordered online.
Oktoberfest Songs and Dance

An Oktoberfest celebration always includes plenty of polkas and waltzes so you should play traditional German folk music or find a CD that features plenty of brass and accordion. It would even be fun to find an experienced dancer and offer lessons for your guest who wish to participate.
Have your guests line up for a chicken dance competition. This oom-pah song has become part of German heritage, and the dance is an Oktoberfest tradition.
Oktoberfest Party Prizes and Favors

Prizes can be given for winning games or as "Best Dressed" awards for those who come in traditional Oktoberfest costumes. Strands of blue beads or inexpensive green Alpine hats make great prizes and are a festive addition to any costume or outfit. For larger door prizes or favors, you can purchase large glass mugs or steins with an Oktoberfest symbol or the date of your party emblazoned on the front.
If you are ordering CDs for your party, add a few extra to your list and give them to your guests. They make a nice memento and give your guests a head start on hosting an Oktoberfest party of their own.
Oktoberfest Costume Ideas
Oktoberfest Hats
Oktoberfest Recipes
Spezi Recipe:


½ part orange juice, Fanta, or orange soda

½ part coca-cola

Juice from ¼ lemon (optional)

Cool ingredients, mix, and serve.


Bavarian Potato Salad:


4 cups potatoes, peeled, and sliced ¼ inch thick (red potatoes are best)

2 cups chicken broth

1 cup bacon, cooked and chopped

½ cup onion, minced

1 tsp. sugar

2 tbsp. lemon juice

1 tbsp. Dijon mustard

½ cup fresh, chopped parsley

Place potatoes and chicken broth in a saucepan and simmer. Cook until the potatoes are just tender. Do not overcook.

Drain the stock, but reserve it for later.

Cook the bacon in a skillet. When it is crunchy, drain the fat, break into small pieces.

Mix lemon juice, sugar, Dijon mustard, and 4 tbsp of bacon fat.

Toss mixture with potatoes, onions, and bacon bits.

Add a little of the chicken broth to moisten, and season with salt, pepper, and paprika (optional).

Cover and let sit overnight.

Garnish with parsley before serving.


Red Cabbage with Apples:


1head red cabbage

3 tbsp. red wine vinegar

3 tbsp. water

2 tbsp. sugar

4 slices bacon, chopped

1-2 granny smith apples, peeled, cored, and cubed

4 slices bacon

1/8 tsp cloves

Pepper to taste

Grate cabbage.

Heat bacon in large saucepan over medium heat.

When bacon is crisp add red cabbage, vinegar, water, salt, pepper, and cloves. Mix well.

Sprinkle sugar over top but do not stir.

Cover and simmer for about 15 minutes.

Add apples and stir. Cook about another 5 minutes, or until cabbage and apples are soft.


German Chocolate Cake:


1 1/3 cups flaked coconut

1 cup chopped pecans

1 package German chocolate cake mix

1 package cream cheese (8 ounces) softened

½ cup butter

1 egg

1 cup confectioners sugar

Spread coconut and pecans in a greased and floured 9X13 pan.

Prepare cake mix according to package directions and pour over pecans and coconut.

In a mixing bowl, beat cream cheese and butter.

Add egg and sugar and beat until smooth.

Carefully drop spoonfuls over the batter and spread, leaving 1 inch around edge of pan.

Bake at 350 degrees for 55-60 minutes or until toothpick comes out clean.

Cool 10 minutes. Invert on serving tray. Ice if desired.
Nov 25, 23 03:52 PM

Printable left right Christmas game based on the story of Scrooge from A Christmas Carol by Charles Dickens. Read the story and pass gifts left and right.

Nov 20, 23 05:55 PM

A crazy Christmas scavenger hunt involves finding unusual Christmas items that have been set up in the hunt area ahead of time. Will your guests spot that Rudolph has a green nose, etc.?

Nov 20, 23 04:58 PM

Over a dozen Christmas scavenger hunts to celebrate the holiday season. Tons of fun Christmas treasure hunt riddles, clues and printable lists.