Rappie Pie
by Daniel Surette
(Church Point, Nova Scotia, Canada)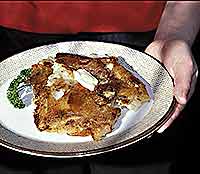 Rappie Pie
Boil Chicken with Onions and your favorite spices until cooked, or desired flavour.

Take ten pounds of potatoes and peel them.

On a four sided cheese grater. Use the part that has those little holes punched out. 5

Grind down all the potatoes until you have a lot of "potato mush."

Take a strainer (a pillow case works the best!) and take as much water out of the potato mush you can.

Take the potato mush and break it into small pieces with your fingers in a huge bowl! Then take your chicken broth and pour a bit into the potatoes and mix quickly! Be sure that there are no clumps! Do this until the desired thickness of your pie. The more broth, the more soupy the Rappie Pie will be! After this is done, put one layer of potato/broth mixture into a a large pan, like a large rectangular pan that fits perfectly into your oven. Put one layer, then put pieces of chicken everywhere then put another layer on top.

Throw this into the oven at 420 for about an hour, turn the pan around. Bring the heat down to 375 for another hour. By this time it should have a really nice crust on top. Take out of the oven. Put some butter and salt on it (some people love pickles with it) and Enjoy!

I'm sorry I did not put the exact mesurements I did not have the time but it's pretty straight forward! I hope you like it.
Return to Family Reunion Ideas.
Feb 12, 23 04:19 PM

Add an extra challenge to game day with this Super bowl picture puzzle rebus. Guess the names of 10 players from the Kansas City Chiefs and Philadelphia Eagles.

Feb 12, 23 04:16 PM

Host a Super Bowl party with great food, games and friends. Add our Super Bowl trivia questions and icebreakers, and get everyone's game predictions pre-party.

Nov 23, 22 03:29 PM

12 days of Christmas legend game based on lyrics used as a secret code to share faith and avoid persecution. Match each gift with its symbolic Christian meaning