RIGHT LEFT BRIDAL SHOWER GAME
by S. J.  from Beckley, WV


Right Left Bridal Shower Game Instructions
Everyone sits in a circle. 


Wrap two (or three depending on how many guests you have) gifts to give to two or three guests sitting in the circle. 

Tell the guests to listen closely as you read the following (see story below) and pass the gifts to their left or right whenever they hear it read. 


Don't read this to slow. It will make the game much funnier as your guests try to keep up and pass the gifts in the correct order. 


Don't stop to let them catch up if they get confused. Let them figure that out themselves.


Whoever is holding the gift at the end, wins that gift.


Printable Version of This Right Left Bridal Shower Game Story


Right Left Bridal Shower Game Story
(Bride's name) knew right away that she had found Mr. RIGHT and the RIGHT date was set. Now seemed to be the RIGHT time to start so she LEFT RIGHT after lunch and went RIGHT to her mother's house. She knew she needed to get started RIGHT away to make sure nothing was LEFT undone. 

There was little time LEFT to spare and so much LEFT to do. She asked her mother to write down an address list and she LEFT to find the RIGHT invitations. On her way, she LEFT a message at the florist and then RIGHT to the bridal shop she ran.

RIGHT in the window was the perfect dress. Oh no, I LEFT my checkbook RIGHT in the car. Hold that dress, I'll be RIGHT back. With that done, she called Mr. RIGHT and LEFT him a message to call her RIGHT back. She LEFT to meet the florist who had LEFT her a message that they had the RIGHT flowers for her. 

Mr. RIGHT called her RIGHT back and said he LEFT a message for the preacher to call him RIGHT back and that he had just LEFT work and would be RIGHT over. 

She LEFT the florist and ran RIGHT over to meet Mr RIGHT. RIGHT away they discussed what was LEFT to do. Who would be the RIGHT best man? She LEFT that up to Mr RIGHT. I'll get the RIGHT maid of Honor. 

RIGHT away they started shopping for the RIGHT rings. With that done, the next stop was to order the RIGHT cake. Mr. RIGHT could clearly see his future, Mrs. RIGHT, was on the right track. 

After a long day, all that was LEFT to do was get RIGHT home to see if any messages were LEFT while they were out. "Lets call it a day". "Whatever is LEFT to do, can be LEFT until tomorrow. With a kiss, he LEFT and she went RIGHT to bed. 


Printable Right Left Bridal Shower Story Game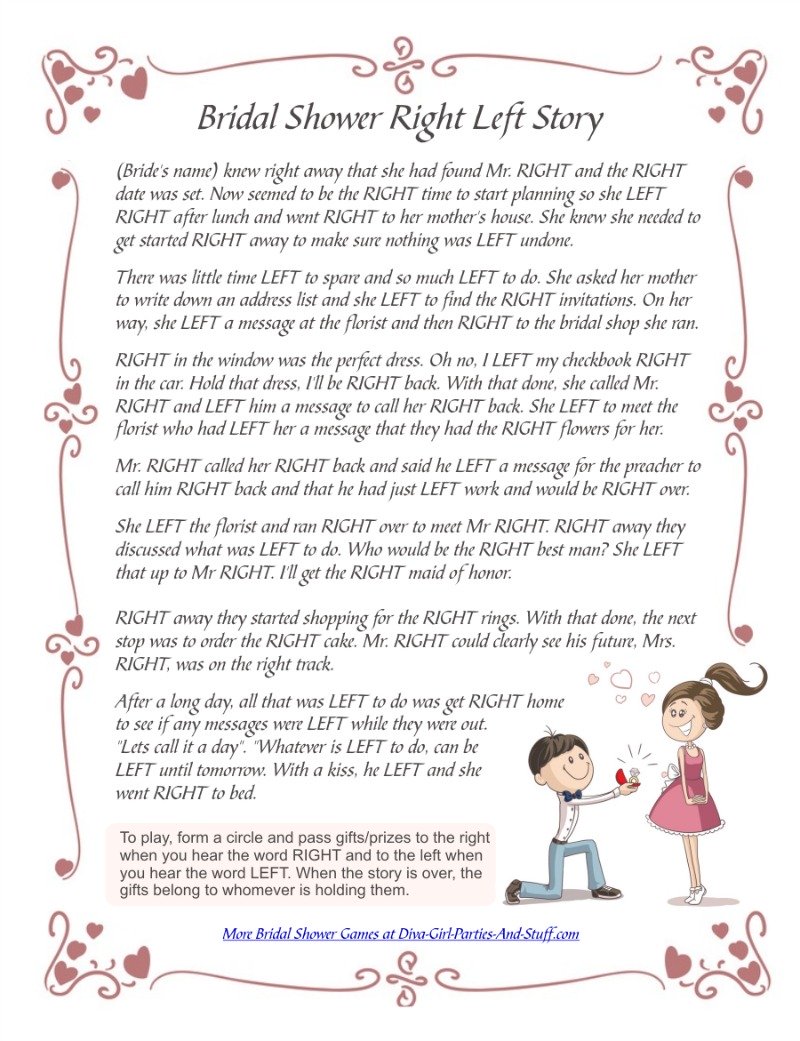 Click to Download Printable Right Left Bridal Shower Game

Looking for Another Gift Passing Bridal Shower Game?

Check out this one! 

More Bridal Shower Games
Nov 23, 22 03:29 PM

12 days of Christmas legend game based on lyrics used as a secret code to share faith and avoid persecution. Match each gift with its symbolic Christian meaning

Sep 23, 22 04:50 PM

Printable Would You Rather Halloween Game with fun either or icebreaker questions to get your party off to a howling start.

Sep 08, 22 12:25 AM

Printable Halloween pass the gift game poem for 10 players or more. Wrap enough treats and gag prizes to give one per guest or play the game white elephant style.
Right Left Bridal Shower Game