Rudolph's Christmas Scavenger Hunt
by Jean Heasley
(City of Mustang )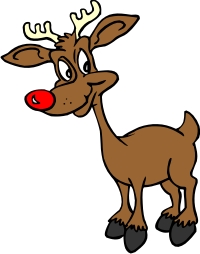 Rudolph
We did this Christmas scavenger hunt game for our Community Tree Lighting and over 500 people attended.

You will need some kind of reindeer to place around the facility. I used the ones that are wire with strands of Christmas lights. Any size or style will work. You can even use different styles. I put ribbons around their necks. You could name them but with young kids I did not do this.

We made cute little cards with a place for stickers with each reindeer. We hid the reindeer around our facility, mixed in the decorations etc..

At each reindeer was a small basket with stickers in them. Once the children had found all of the reindeer (at anytime in the evening - not a race) they brought back the card to staff.

At the end of the event we simply had a drawing for several prizes (kids decided what prize drawing box they wanted to be in).

One of the prizes was a big stuffed Rudolph. Very popular prize.

This was easy and fun with a big crowd.
Join in and write your own page! It's easy to do. How? Simply click here to return to Your Scavenger Hunt Requests.
Nov 23, 22 03:29 PM

12 days of Christmas legend game based on lyrics used as a secret code to share faith and avoid persecution. Match each gift with its symbolic Christian meaning

Sep 23, 22 04:50 PM

Printable Would You Rather Halloween Game with fun either or icebreaker questions to get your party off to a howling start.

Sep 08, 22 12:25 AM

Printable Halloween pass the gift game poem for 10 players or more. Wrap enough treats and gag prizes to give one per guest or play the game white elephant style.