Spider Web Game
by Andrea Keus
(Fonthill, ON, Canada)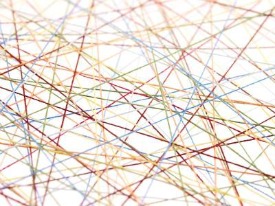 Spider Web Game
Family Reunion Picnic Fun for Kids of All Ages!
The kids loved this spider web game when we played it at our family reunion. Even the older ones, who I thought would think it was boring, loved it.


Buy a small prize for each child participating (I chose a small box of nerds. You can buy them in a bigger bag at WalMart), and wrap it up.


Attach a very long (6ft) piece of string, wool or yarn to it.


Once you have all the strings and prizes, take them outside to your playset and start wrapping them around.


Make sure they are going in different directions, but have them start from a central location.


When you are finished wrapping the strings it looks like a giant spider web.


Before the kids start, give them all their starting string and let the game begin.


After all their hard work, they can open the prize.
Comments:
Mary ~ Missouri, USA
I imagine this could also be fun for adults if you attached appropriate prizes. After all Twister was famous for resulting in a lot of laughs and this game is just as good at getting people tangled up into crazy formations.
Return to Family Reunion Picnic Contest.
May 02, 22 10:18 AM

Need some last minute Mother's Day games and ideas? We've got some here...

Mar 16, 22 01:08 PM

Host your best St. Patrick's Day party ever with these cool party games and activities. Challenge friends to a round of green trivia, write funny limericks, or play a right left leprechaun game.

Feb 12, 22 05:36 PM

A challenging list of multiple choice super bowl trivia questions to add to your trivia, football, or Super Bowl parties. Use them as an icebreaker or play a full out competition.