Western Christmas Ideas - How Fun!
by Tee
(Lakeland, Florida)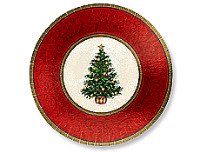 Christmas Party Plates
Stack hay bails into the shape of a christmas tree. Decorate with lights, spurs, etc. and a western metal star for the top.

For centerpieces, decorate cactuses (a Christmas cactus would work well for the theme) with a small strand of battery operated lights, tie with a red bandana or rope and ribbon. Better yet, plant them into an old boot and tie with a ribbon.

Use bandanas for garland (fold in half and tie the ends - use red for sure - if you can find green, that would be awesome!)


A BBQ would be in order for sure as far as the menu goes.
Have guests come in their best western wear... encourage red, green, gold... holiday colors of course.
Find a western band that is willing to play the traditional favorites with a country flair...or use cd's by many of the talented artists that put out Christmas tunes.
Have Fun!!! It's casual and should be a blast!
Western Christmas Party Ideas Supplies at Low Prices
More Western Party Supplies and Decorations