Old West Christmas Party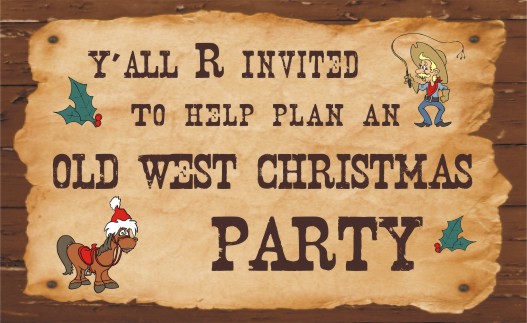 Tis the season to start makin' plans fer an Old West Christmas Party. Y'all know ya have some creative ideas yer just itching to share, but even if ya don't ... y'all can still host the best darn Christmas hoedown in town by usin' the ideas ya find here. Alrighty then pardners, saddle up yer imaginations and let's start plannin'...
We're lookin' fer invitation, decoration, costume, food and recipe ideas. But don't y'all stop there. Every party needs some great games and activities, prizes, and favors too. Yeehaw!
P.S. You'll find any visitor submitted ideas below the submission form immediately following.

---
Do You Have A Great Idea for an
Old West Christmas Party?
Share it here and please give as much detail about it as possible!
Old West Christmas Party Ideas
Click below for Old West Christmas party ideas that visitors have shared...


Steaks Done to Perfection Not rated yet
For our party we had everyone fill out a "Steak" request sheet and we gave them a number as they entered our home. The kids ran these out to the Cook …

Western Christmas Ideas - How Fun! Not rated yet
Stack hay bails into the shape of a christmas tree. Decorate with lights, spurs, etc. and a western metal star for the top. For centerpieces, decorate …
Old West Christmas Party Supplies
Join in on Party Chats at Diva Girl Parties and Stuff Facebook.


Dec 10, 18 05:29 PM

12 days of Christmas legend game based on the story of Christians using the song lyrics as a secret code to learn and share their faith while avoiding persecution. Can you match each gift with its sym…

Nov 16, 18 03:32 PM

Test your punniness with this Christmas riddles trivia game. Includes a variety of questions related to the holiday. Printable available for download in 2 versions, one with an answer box and the othe…

Oct 16, 18 01:35 PM

Vintage Christmas parlour games to add fun, cozy, memorable moments to your yuletide family gatherings and social events.