Old West Christmas Party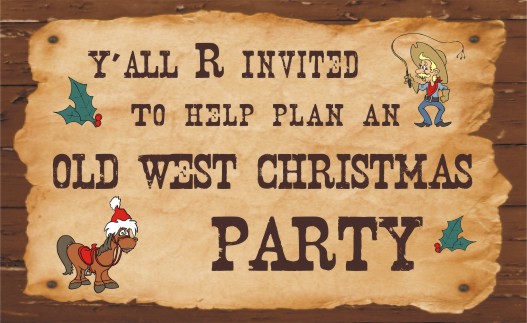 Tis the season to start makin' plans fer an Old West Christmas Party. Y'all know ya have some creative ideas yer just itching to share, but even if ya don't ... y'all can still host the best darn Christmas hoedown in town by usin' the ideas ya find here. Alrighty then pardners, saddle up yer imaginations and let's start plannin'...
We're lookin' fer invitation, decoration, costume, food and recipe ideas. But don't y'all stop there. Every party needs some great games and activities, prizes, and favors too. Yeehaw!
P.S. You'll find any visitor submitted ideas below the submission form immediately following.

---
Do You Have A Great Idea for an
Old West Christmas Party?
Share it here and please give as much detail about it as possible!
Old West Christmas Party Ideas
Click below for Old West Christmas party ideas that visitors have shared...


Steaks Done to Perfection Not rated yet
For our party we had everyone fill out a "Steak" request sheet and we gave them a number as they entered our home. The kids ran these out to the Cook …

Western Christmas Ideas - How Fun! Not rated yet
Stack hay bails into the shape of a christmas tree. Decorate with lights, spurs, etc. and a western metal star for the top. For centerpieces, decorate …
Old West Christmas Party Supplies
Christmas Party Games

Nov 23, 22 03:29 PM

12 days of Christmas legend game based on lyrics used as a secret code to share faith and avoid persecution. Match each gift with its symbolic Christian meaning

Sep 23, 22 04:50 PM

Printable Would You Rather Halloween Game with fun either or icebreaker questions to get your party off to a howling start.

Sep 08, 22 12:25 AM

Printable Halloween pass the gift game poem for 10 players or more. Wrap enough treats and gag prizes to give one per guest or play the game white elephant style.