Garden Party Ideas
Decor Provided by Mother Nature Herself
Garden party ideas to inspire you to take time to enjoy the the beauty and bounty of the great outdoors with friends and family.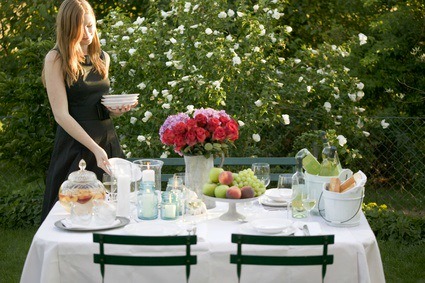 Setting the Table for a Garden Party
Celebrate sunshine, summertime, and great friendships by hosting a garden party in the beauty of your backyard. From refined elegance to country cozy, garden parties are one of the most versatile events to plan and can commemorate almost any occasion.
And, since Mother Nature – with a little help from your green thumb – is the focal point, you can organize a great party without a lot of work.
A relaxed atmosphere, fresh flowers, and simple food is all you need to host a enjoyable gathering of family and friends.


Garden Party Invitations
You can make a simple floral card into a beautiful invitation by scenting it with a little flowery perfume such as gardenia, rose, or lavender and wrapping it with an elegant ribbon. Print or create invites in the shape of butterflies or watering cans or design your own with vegetable stamps made from your garden produce.

If you are able to hand deliver your invitations, attach the cards to small decorative watering cans or plant pokes inserted into potted plants or boxes of impatiens and pansies. If all your guests live in town, you could even pay a student to deliver your invites for you, reminiscent of the Victorian courier. Guests will be honored to be individually acknowledged and personally invited.
Using calligraphy will add an elegant, professional look to your invitations, and can be created to suit any style from rustic to traditional or contemporary. Look for calligraphy font when typing out your invites or write them yourself using these instructions...
Garden Party Decorations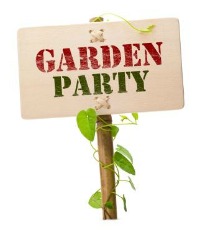 A garden party is all about creating a relaxed atmosphere so guests feel comfortable mingling and socializing.
Arrange small intimate tables and chairs, garden furniture, and benches in strategic ways that highlight the best of your outdoor space so everyone can enjoy the beautiful flowers, trickling fountains, and charming fish filled ponds.


Cover tables with classic white cloths for an elegant feel, or go with something more whimsical to create a Victorian aura. You could also use a picnic plaid or dainty lace coverings, depending on the mood of your party.


It is a good idea to keep napkins and table cloths fairly plain since you don't want busy or floral patterns to conflict with the fresh flowers and plants around your space.


Use old fashioned metal mugs, clay vases, mason jars, or watering cans filled with simple blooms to accent tables, and have some patio umbrellas to protect guests from the daytime sun.


Dishes can vary from tasteful disposable to fine china, again depending on the look you are wanting to create.


Decorate the buffet or drink table with a large decorative birdcage filled with beautiful blooms and place cutlery in colorful pails or terra cotta flower pots. You could even wrap utensils in napkins and tie with a piece of ribbon, raffia, ivy, or garden themed napkin ring.


Setting up a few open-sided tents would protect food from the direct sunlight and give guests a place of refuge in case of rain. Hang floral swags and vines around tent edges or along ceilings and string some lights for the evening hours.


If your party will be carrying into the evening, place plenty of lanterns, torches, and candles around your backyard. Remember to include a few citronella candles to keep the mosquitos away.


Of course, any bare spots can be filled in with potted plants, hanging planters, or flower boxes.


Have classical or jazz music playing in the background to complete the atmosphere and help guests relax and enjoy the serenity of your garden retreat.


Garden Party Ideas for Table Decorations

As an Amazon Associate I earn commissions from qualifying purchases.


Garden Party Food
Since garden parties are so versatile you could go with anything from a basic buffet to a catered 5 course dinner. However, since summer is typically warm, simple fare such as crackers and cheese, salads, wraps, hors d'oeuvres, and fresh fruit and veggies is usually the easiest option.
If you want a barbecue, then cook the food ahead of time so you just have to warm it on the grill. This will mean less time cooking and more time socializing with guests.
Even though the food is simple, you can dress up your menu with creative and appealing presentation.
Place uncut fruit into small bushel baskets wrapped in vines or silk flowers.


Make a watermelon basket as a centerpiece for larger tables or use a cantaloupe for smaller tables.


Decorate serving platters with real or silk flowers and sprigs of herbs.
BEVERAGES
Have large pitchers of fresh juices, iced tea, and lemonade so guests can help themselves.

Serving Pink Lemonade at a Garden Party
 If you are wanting to serve cocktails, choose only a few and keep them readily available so someone doesn't have to play bartender all day or evening.


Great choices would be pitchers of Long Island Iced Tea or Margaritas, or simply keep some wine coolers on ice.


Garnish drink pitchers and punch bowls with edible flowers, accent rims of glasses with pieces of wedged fruit.


Of course, don't forget ice water, and maybe a few hot beverage options such as coffee or cider.


DESSERTS
Chocolate Fountains
As an Amazon Associate I earn commissions from qualifying purchases.

Just like the main course, dessert can be equally simple and refreshing.
Have a sundae bar.


Serve delicate petit fours, elegant squares and pastries, or chocolate dipped strawberries.


Take advantage of in-season fruit by having a strawberry shortcake, blueberry and kiwi flan, or raspberry crepes.


A chocolate fountain would also be a great idea and appropriate for both an elegant or casual event.


Garden Party Games and Activities
Backyard parties are usually about socializing so guests will probably enjoy simply mingling and chatting.
Organized activities are not necessary, but you can have some traditional lawn games available such as Croquet, Bocce Ball, or Horseshoes for those who want to arrange an impromptu match.



As an Amazon Associate I earn commissions from qualifying purchases.


Garden Party Prize Ideas
Garden Birdhouse
As an Amazon Associate I earn commissions from qualifying purchases.

If there are no organized games, there is really no need for winner's prizes, however, you could have a couple of door prizes. Here are a few in keeping with the theme.
A potted plant


A garden stone or decoration


A candle lantern


A basket of goodies from your garden


Garden Party Favor Ideas
Though not necessary, it can be nice to send guests home with a special "thank you" gift. Some ideas include...

Herb Seed Packets
As an Amazon Associate I earn commissions from qualifying purchases.

A seed packet wrapped with raffia or lace


A beautiful bouquet of flowers from your garden


A small potted plant or box of annuals


A starter kit for growing herbs


A small basket of freshly picked produce

These are easy and inexpensive ways to thank guests for coming to your party and to let them know how much you appreciate their friendship.
Hosting a garden party is a great way to celebrate summer and show off all the work you put into making your backyard beautiful. From a family celebration to a neighborhood block party or a gathering of friends, everyone will enjoy the fun relaxed atmosphere of a garden party.


More Garden Party Ideas
Nov 25, 23 03:52 PM

Printable left right Christmas game based on the story of Scrooge from A Christmas Carol by Charles Dickens. Read the story and pass gifts left and right.

Nov 20, 23 05:55 PM

A crazy Christmas scavenger hunt involves finding unusual Christmas items that have been set up in the hunt area ahead of time. Will your guests spot that Rudolph has a green nose, etc.?

Nov 20, 23 04:58 PM

Over a dozen Christmas scavenger hunts to celebrate the holiday season. Tons of fun Christmas treasure hunt riddles, clues and printable lists.