9 Adult Party Theme Ideas You'll RSVP with a YES!
It's not just kids that can enjoy a great theme party. No way! It's so much fun as an adult to anticipate and prepare for a well-planned themed event. It's a blast to get dressed up and immerse yourself in a scene with friends and family who love to rock their socks off, glam up to the nines, or hearken their alter egos to come out and play late into the night.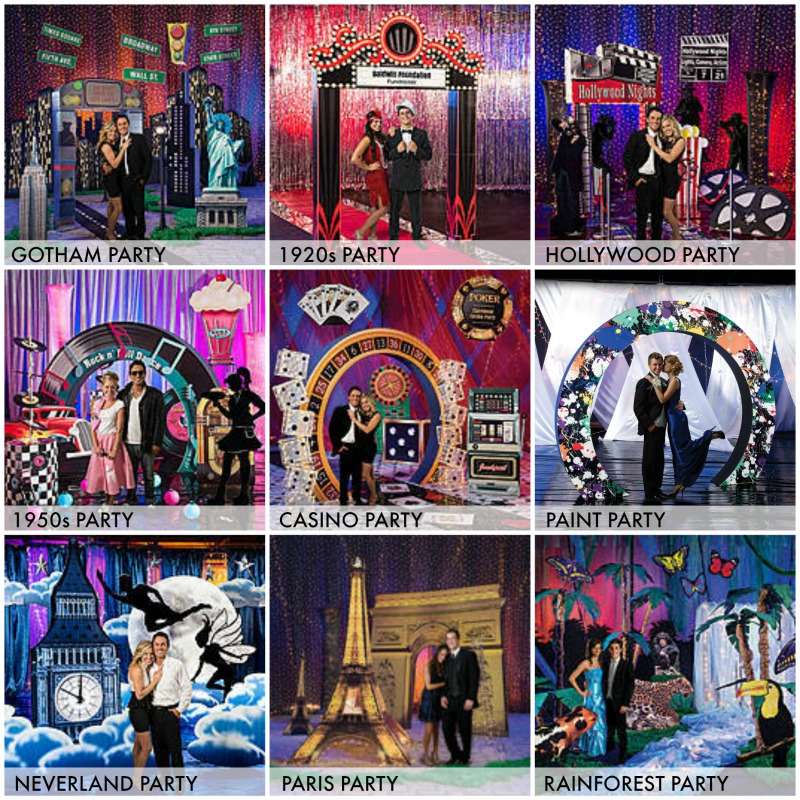 Here's 9 of our picks for adult party theme ideas worthy of setting time aside for a night out and going the extra mile to look your most sizzling self.  


1. Gotham Party
The TV show is dark, but the characters are layered and interesting.  Love!  Can't get enough of it.  And the costuming?  Don't get me started.  Again... LOVE! 
Plan a Gotham themed costume party or an elegant society event with a Gotham background. Either way, the ideas and conversation starters are limitless.  
2. 1920s Party
As if marking the breakthrough of women's freedom to vote isn't enough to celebrate the roaring 20s, the music and flapper fashion makes it a MUST!
Set up a 20s nightclub scene with live or recorded music for the event. If you or a friend has a sultry voice to DJ the evening, all the better. 
Include a Gatsby themed escape room challenge.  You can download the kit and be ready to use it at your party in 20 to 30 minutes.  Or you can customize it to your party and add in some ideas of your own.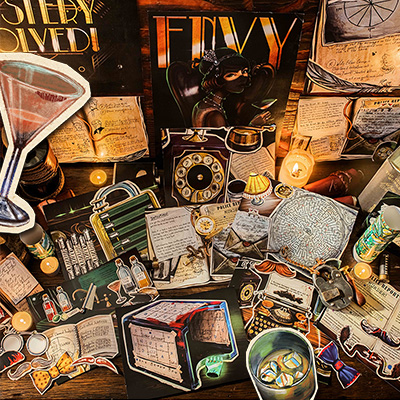 ENVY - 1920s Themed Escape Room KitBuy Download and Play TODAY!
There's also some great Flapper themed murder mysteries that would elevate the entertainment value. 2 pinkies up!

Flapper Murder at the 1920s Speakeasy! Murder Mystery Game
3. Hollywood Party
The allure of celebrity and fame is something we all succumb to at some point, so why not embrace it and celebrate?
The Oscars are the biggest real world example of the appeal of Hollywood themed celebrations and offer a myriad of ideas on what movie themed parties can look like. It's all about the red carpet, the fashion, and being seen. You can make family and friends feel like superstars. Right?

Murder at the Bourbon Club 1950's Hollywood Murder Mystery Game

Red Carpet Inspired Party Ideas


4. 1950s Party
There's no better way to shake things up then with a fifties party.  Juke boxes, poodles skirts, and soda fountain drinks set the stage for rock all night fun.
These parties are always so nostalgic and fun, though finding LPs to decorate with can be a tad more challenging then it was a couple decades ago.


5. Casino Party
No matter how you roll the dice, a casino party deals a winning hand every time. 
So, put on your poker face and get ready to try your luck with one of the best party themes for celebrating everything from a 21st birthday to a stag and doe, a graduation to a charity fundraiser.

Casino Party Ideas


6. Paint Party
Paint parties are growing in popularity and are offered at bars and artsy venues across the country.  
Plan to attend one or host your own and explore the creative sides of yourself and a friend or significant other. You'll be surprised at what your hands are capable of outside of text messaging. Seriously though!


7. Neverland Party
We all have a little Peter Pan in us, though we may not all take it to the level the late Michael Jackson did.  Imagine if you could.  What would your Neverland look like?
Adulthood often robs us of childhood dreams and imaginations. Imagine a party that reflected a world you envisioned as a child. What would it look like? How could you recreate it? Do it and invite guests to come and explore it or share their own Neverlands!


8. Paris Party
Nothing speaks class and/or romance like a Parisian soiree. The setting, music, and eye tantalizing finger foods are what make this party a hit. Feel it. Hear it. Breathe it all in.
It's so energizing to plan a time to slow life down and experience the beautiful, petite things that normally escape us. A Parisian party does this well. Bon Appétit! Savor every moment.

Paris Party Ideas


9. Rainforest Party
We all have causes we embrace from the environment to the humane treatment of animals. Whether you're fundraising or raising awareness for the arts, the human condition, cultural or gender disparity, or any number of other issues you care about, a party is a great place to start.  It puts guests at ease and makes them open to the message you have to share.
Even adults who aren't social will push themselves to attend an event that helps the cause they care passionately about.


If no one else is hosting the party, step up to the plate and plan it yourself. We're here to help.  Have questions?  Ask away HERE!
Have great ideas? Share HERE!

More Party Theme Ideas


Jul 25, 23 02:35 PM

Fun and challenging baby animal name game. What baby animal names do these 15 image clues rhyme with? Challenge yourself and your party guests. Free printable game and answers.

Jun 27, 23 02:30 PM

Challenge friends and family with this July 4th songs trivia quiz based on patriotic lyrics. From traditional to modern, there's a song for every generation.

Apr 26, 23 04:28 PM

Guess the Princess from an image of something they are associated with like a chameleon for Rapunzel or a pea for Princess Daria. Printable game with answers.