Spa Sleepover
by Anonymous
Soon it's my 13th birthday. For it I want to have a spa sleepover but I have a load of problems.

First, I have absolutely no idea what to do. Second, I'm broke so I can't really spend that much money. Third, there is absolutely no way I can sleep anywhere other than my front room. And finally, every other site I've been on has suggested making something, but come on that is just not cool...

Please Help!


Spa Sleepover Response: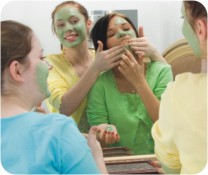 Spa sleepovers are all about doing something pampering and sharing lots of girl talk and laughter. It doesn't have to cost alot, however, if there are certain things you want to have, you'll either have to buy them or make them ahead of time.

For instance, face masks are always fun at spa parties. You can buy them or make them with ingredients you have at home. If you'd like a recipe just post in the comment box below and I'll add one.

Manicures and pedicures are easy and inexpensive. With some toothpicks and colored nail polish you can make some really fun designs on each other's fingernails and toenails (use the toothpicks to draw the designs). Add some stencils, stickers or gems if you can afford it and cover your designs with clear nail polish. It's amazing the cool designs you can make with a few colors and accessories. Keep some nail polish remover on hand in case you make a mistake.

There are several conversation games that you can print out and use like the Who, Where, Why game and SHARE. There are more games that would fit your party on my party game page.

Another fun activity is to ask you friends to each bring one item they use a lot in a paper bag or something that you can't see through. Have them all drop their item in a container at your place that no one can see through and later in the evening pull each item out and have everyone guess who the item belongs to. You can ask them to bring a baby photo or their favorite stuffed animal instead... whatever.

Set up a diva photo shoot if everyone has cameras. Do up each other's hair and try and come up with some outrageous outfits. Be silly and have fun!

There are some printable invitations for a spa party on my site, but if you don't have a color printer try writing the invitation on a bottle of nail polish or buy those lip gloss key chains at the dollar store and attach an invitation card.

Ask the girls to each bring their favorite movie with them. That way you'll have something to watch later in the evening if you need something to do.

Hope this helps!

Diva Girl

For those who have requested homemade spa recipes:
If you sign up for my free ezine "Girl Stuff" you will have immediate access to an ebook of homemade spa recipes. You can do that by clicking here.

There are also several facial mask recipes on my Facial Mask Recipes page.